Sikorsky is flying Matrix, its autonomous flight control system, on a "large cargo aircraft".
The statement, which came during a 8 February press conference about recent uninhabited autonomous flights of a Sikorsky UH-60A Black Hawk, is the first time the company has disclosed the work.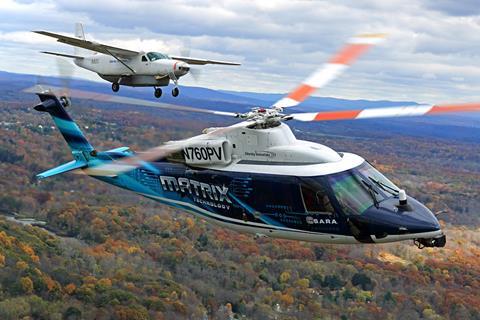 Because they do not carry passengers, cargo aircraft are seen as likely early adopters of flight automation - potentially reducing the number of humans required in the cockpit from two persons, down to one, and possibly zero one day. Sikorsky's Matrix is one of the most advanced flight automation systems in development.
Matrix was developed in partnership with the US Defense Advanced Research Projects Agency (DARPA). The company and DARPA demonstrated on 5 February the technology for the first time flying a UH-60A utility helicopter autonomously, without any backup pilots on board.
Matrix is a general-purpose autonomous flight control system. It has been integrated into a Cessna 208 Caravan and a Sikorsky S-76B, the Sikorsky Autonomy Research Aircraft (known as SARA).
Sikorsky is working to add Matrix to a new aircraft, said Igor Cherepinsky, director of Sikorsky Innovations, during a press conference on 8 February.
"This is already flying on a large cargo aircraft and I will leave it at that," he said.
Sikorsky declined to comment further on the aircraft type or any other details of the effort.
Matrix, developed inside DARPA's Aircrew Labor In-Cockpit Automation System (ALIAS) programme, is being transitioned over to the US Army – operator of the world's largest Black Hawk fleet – and perhaps other military services such as the US Air Force. It is also being transferred to civilian projects.
"This system is going through a civil certification on a project that unfortunately I can't name, but it's fairly deep into cert," says Cherepinsky.
Sikorsky did not respond to questions about whether the "large cargo aircraft" was undergoing a certification effort. The firm does not manufacture large cargo aircraft, though parent company Lockheed Martin makes the LM-100J cargo aircraft, a civilian version of its C-130J four-engined turboprop military transport.
Sikorsky is not the only company working on automating flight of cargo aircraft. Startups, such as Merlin Labs, Reliable Robotics and Xwing, are developing autonomous flight control systems. Airframers Boeing and Airbus are also pondering the concept.
The market for cargo aircraft has boomed over the past two years as the coronavirus pandemic has kept people at home and shifted their shopping to e-commerce. At the same time, the economic fallout from the pandemic resulted in the layoff of thousands of pilots, limiting the growth of the air cargo industry and spurring more talk of single pilot cargo operations.
Beyond the unnamed cargo aircraft, Sikorsky says it is working to obtain Federal Aviation Administration certification of its Matrix system on its S-76 and S-92 twin-engined medium-lift commercial helicopters, as well as the Erickson S-64 Skycrane twin-engined heavy-lift helicopter.
Cherepinsky adds that Sikorsky is also looking at adding Matrix to hybrid-electric and electric aircraft. The system uses sensors, such as LiDAR, to automatically avoid obstacles, including buildings – useful for potential urban flights of electric vertical take-off and landing (eVTOL) aircraft. In a second flight, on 7 February, DARPA and Sikorsky showed the UH-60A autonomously flying between simulated buildings in a virtual downtown Manhattan.
The nascent Advanced Air Mobility industry, which envisions eVTOL and fixed-wing electric aircraft flying short inner and inter-city routes, is also eyeing flight automation for economic reasons. Due to battery energy density limitations, eVTOLs and regional fixed-wing electric aircraft can only carry a handful of passengers at a time.
Limits on the number of paying customers that can be carried makes eliminating pilots – and their salaries – through automation appealing. What's more, a general lack of pilots could restrain the growth of the industry, creating a further incentive for flight automation.