US Federal Aviation Administration chief Steve Dickson recently told a House appropriations subcommittee that he expects US regulators will approve urban air mobility (UAM) vehicles in 2023, with first UAM operations taking place in 2024.
That is welcome news to the many start-ups and other companies that in recent years have been heavy into development of electric vertical take-off and landing (eVTOL) aircraft, also known as urban air taxis. The eVTOLs will initially be piloted, but developers are giving the vehicles autonomous technology, expecting they will eventually be pilotless.
Despite reason for optimism, the sector has several challenges to overcome, and several companies that are pursuing initial public offerings will face increased pressure to satisfy shareholders.
Hurdles facing eVTOLs include the need to meet stringent safety and certification standards, and to comply with local ordinances against excessive noise. Also, eVTOL's range and speed, and the routes they will operate, must be competitive with established transportation options. Additionally, the still-nascent regulatory system and national infrastructure for the eVTOL ecosystem must mature.
Perhaps the least understood aspect of the UAM sector is the viability of the business case. Recently released documents reveal how two developers – Joby Aviation and Lilium – are pushing technological boundaries, and how they view the market opportunity. The documents are publicly available because those companies are pursuing reverse mergers with public firms known as Special Purpose Acquisition Companies (SPACs).
Joby is developing a four-passenger eVTOL with range of 130nm (241km), while Lilium is working on a high-speed regional air mobility platform that will be powered by 36 tilting electric fans and capable of carrying six passengers up to 135nm.
Lilium's publicly available information is especially illuminating, revealing that its eVTOLs will cost an estimated $2.5 million and have eight-year lifespans. Lilium predicts each aircraft could generate revenue of $5 million annually and return a $10 million profit over its lifespan. The company anticipates increasing annual production of its eVTOL from 90 units in its first year to 950 annually by 2027.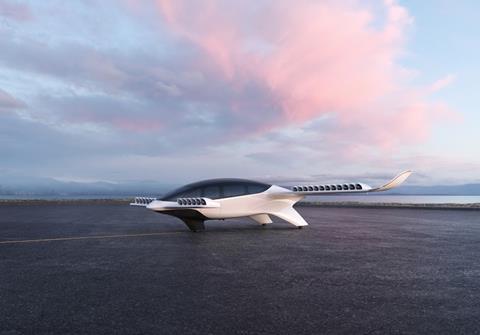 There are other unknown factors for these companies. For instance, which manufacturing strategies will they pursue? What are the operational costs for their eVTOLs?
UAM developers must mature their manufacturing capabilities and supply chains. They face the challenge of needing aerospace-quality parts produced at rates more typical of the automotive industry than the aerospace sector. But UAM makers cannot simply turn to auto suppliers – those companies typically do not meet aerospace quality and engineering requirements. The high cost of components will make producing lower-cost eVTOLs – those with faster payback periods – difficult.
The operational costs of piloted eVTOLs, along with the costs to support their full maintenance life cycle, could outweigh the price operators can charge per seat. Future passengers must be willing to pay premiums for short flights. UAM companies are banking on a future with higher degrees of automation, which could allow for simplified pilot licensing or, eventually, completely autonomous operations. But it will be years before the FAA and society accepts that technology.
In past years, when the UAM industry was largely funded with private investment, companies perhaps faced less pressure to quickly overcome very real technological, regulatory and economic hurdles. But now, with developers going public through SPAC transactions, the game is changing. Today's eVTOL companies have a more-limited timeframe to overcome challenges and to meet the expectations of their investors and shareholders.
Alex Krutz is managing director at Patriot Industrial Partners, an aerospace and defence advisory firm that focuses on manufacturing strategy and supply chain optimisation. Connect him on LinkedIn.