Jean Botti, the founder and chief executive of VoltAero, is juggling design, production, the acquisition of launch customers and investment as his firm pursues an aggressive timeline to bring the all-new Cassio 330, a hybrid-electric, four- to five-seater, ready for service entry by the end of 2023.
The plan is to move quickly, and have the second aircraft in the family: the six-seat Cassio 480, enter use at the end of 2024. A final model, the 10-seat 660, will be operational at the end of 2025, Botti told FlightGlobal at the Air Charter Expo (ACE) event at Biggin Hill airport in mid-September.
He believes the 200kt (360km/h) Cassio, with its range of 648nm (1,200km) in full hybrid mode, will be attractive to the regional air charter market.
Botti, an ex-chief technology officer of Airbus, had arrived in the UK from VoltAero's base in France on its Cassio 1 demonstrator aircraft, a Cessna 337 Skymaster featuring a dual-power-source engine.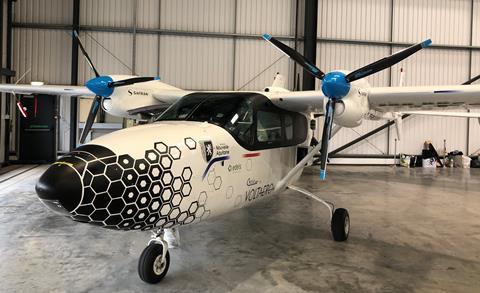 Showing off a scale model of the Cassio to potential customers and investors at ACE, Botti is taking pre-orders for the first in the range, with 50 secured to date.
"There is no money at this point, it is all about engagement. Once we have the first prototypes rolling, we will get money," he says.
There are three announced customers with letters of intent for the Cassio 330, and more that have yet to be named, says Botti. Finistair, a small regional airline and air taxi operator based in Brest, France, has 15 on pre-order; Montpellier-based Airways Aviation, an air taxi and pilot training operator, has 15 on pre-order; while start-up KinectAir plans to have a fleet of 20 for its US fractional aircraft ownership programme. KinectAir launched its "Pioneer" programme at the Oshkosh AirVenture show in July and 75 customers have already signed up, says Botti.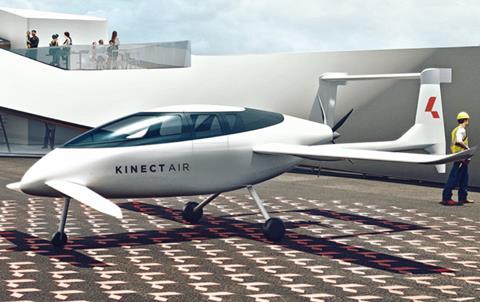 KinectAir is aiming to obtain its US Federal Aviation Administration Part 135 certificate by year-end, says Nick Rogers, chief commercial officer. It is aiming for a network of eight aircraft available for charter in the US market, booked via its mobile app, he adds. The company has signed an agreement with the owner of a Pilatus PC-12, based in Atlanta, to become the first KinectAir-operated aircraft in the programme.
"We start with conventional aircraft and then move into hybrid and then into electric. We believe the ability to offer customers an electric [aircraft] choice will be important," says Rogers.
Botti says VoltAero is targeting June 2022 for the first flight of the Cassio 330 prototype from its base at Rochefort airport in the Nouvelle-Aquitaine region of western France.
PRODUCTION PLAN
The Cassio family will be produced in a purpose-built factory at a greenfield site at Rochefort, which will start being constructed at the end of 2021, he says. This plant is being built by the regional government and leased by VoltAero. At peak production rates the company is aiming to build 150 aircraft annually across all three variants.
The design of the 330, undertaken by VoltAero in partnership with Dassault Systemes, is now frozen, with detailed manufacturing design execution undertaken by aerostructures specialist Sonaca.
Botti says VoltAero is close to finalising the contract with a European company to manufacture the fuselage, wings, and main structural components for the Cassio family. The modular design can be stretched easily from the smaller two versions to the larger model, he explains.
The 330 will have a 330kW powertrain, the 480 a 480kW powertrain and the 660 a 600kW powertrain. VoltAero's hybrid system operates with a parallel drive train combining electric motors and a thermal combustion engine. Botti says the latter serves as a range extender to recharge the batteries, and as a back-up.
The Cassio will take off purely using electric power, with the thermal engine at idle to provide a back-up in case of any problems. "Being a hybrid aircraft can help you increase range, but is also a safety feature," says Botti.
The company is close to selecting the thermal engine for the prototype and production aircraft. It will be adapted from an automotive engine. Safran will supply the electric motors.
Botti estimates that VoltAero will require €45 million ($52 million) to bring the first Cassio into series production. The firm has been awarded blended financing of €22 million as part of the European Commission's (EC's) Green Deal Horizon 2020 initiative, which provides research and development funding for sustainability-related projects. This arrangement features €11 million of equity from the EC, with the remaining funds to be matched by private investors that VoltAero must attract. A further €2.1 million was awarded by the EC to VoltAero as a pure grant.
Investor interest in VoltAero and its Cassio range is strong, says Botti. "So far, we have concentrated our efforts in Europe, but now we are moving to the US and the UK. We think the UK is a very interesting country for this kind of aircraft, and it's also interesting because of the investor dynamics of the UK and London," he adds.
Although the Cassio begins life as a hybrid aircraft, VoltAero has an eye on future power source developments. "This is an electric aircraft, but the thermal engine is very adaptive to biofuels," says Botti. The firm has looked at hydrogen fuel, but the technology is not ready yet. "It would, however, be easy for us to adapt a thermal engine to hydrogen," he says.