Aeroflot has approved plans to transfer over 40 Sukhoi Superjet 100s from its fleet to sister carrier Rossiya, as part of a restructuring of its short-haul network operations.
Over the course of December this year to August 2021 it intends to shift 17 aircraft leased from Sberbank, another 20 from VEB-Leasing, and five from an entity identified as PSB Aviaprofleasing.
Aeroflot Group's board cleared the proposals during a meeting on 17 December.
Rossiya has been preparing to take on the role of providing short-haul feeder operations to hubs, as well as intra-regional links, with Russian-built aircraft as part of a strategic plan which involves Aeroflot's concentrating on long-haul services.
Under the plan Rossiya will become a "centre of competence" for domestically-built aviation development, says Aeroflot Group.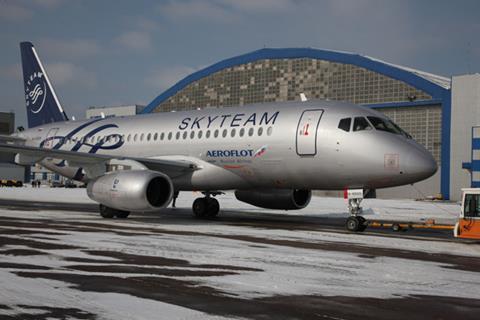 Aeroflot Group has identified 10 Superjets which will be moved to Rossiya before the end of this year.
These will comprise all five from Aviaprofleasing – bearing serial numbers 95191-95195 – plus five from Sberbank listed as 95074, 95076, 95079, 95099 and 95103.
Aeroflot Group has outlined a schedule showing the other 32 aircraft will be gradually subleased to Rossiya over the first eight months of 2021, including 12 in the first quarter, 13 in the second and seven in the third.
Over the first nine months of 2020, Aeroflot has added five Superjet 100s to its fleet, taking its overall total to 54. It is the only carrier within the group currently operating the type.