Aeroflot Group is to invest some $58 million in reconfiguring Boeing 737-800s for transfer to the fleet of its budget airline Pobeda.
The group says it has postponed several investment projects as a result of the pandemic-driven air transport crisis.
But during its half-year financial update the company states that it will not only reconfigure three Boeing 777-300ERs but also 50 737-800s.
The $58 million investment in the 737s includes refitting of 10 aircraft this year.
Aeroflot Group is carrying out the interior layout change as part of a broad fleet restructuring under which Pobeda will receive 737-800s from other airlines in the company.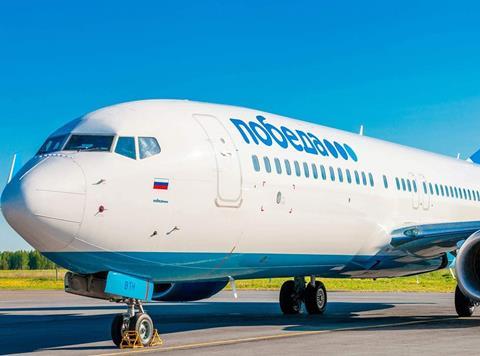 This measure relates to the development strategy to 2028 under which Pobeda will expand to handle 55-65 million annual passengers.
It will be the busiest of Aeroflot Group's operators, with the mainline Aeroflot carrier transporting 35-40 million and Rossiya taking 20-30 million.
Pobeda will concentrate on medium-haul services in international and domestic markets.
Aeroflot Group says it expects the "increasing role" of Pobeda within its operations will increase flight availability for a large segment of customers by cutting average economy-class fares on domestic routes by 30%.