Russian operator Aeroflot Group has settled with another lessor over its continued use of foreign-built aircraft.
The company states that it has "completed" a settlement arrangement with the Irish arm of Singapore-based BOC Aviation.
While Aeroflot Group has not disclosed terms, BOC Aviation states that it has received a cash payment of around $208 million.
Aeroflot Group says the agreement covers eight aircraft plus another under management.
"In accordance with the agreements reached, the lessors ceased their claims against the Russian parties," it states.
This cessation includes claims under policies issued by Russian insurance companies and under leasing agreements with Aeroflot Group carrier Rossiya and its budget airline Pobeda.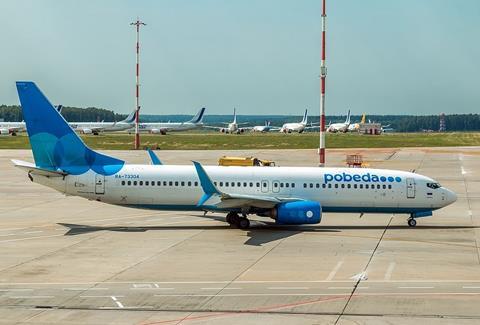 BOC Aviation has leased eight Boeing 737-800s to Pobeda.
Ownership of the aircraft involved will pass to Russian insurance firm NSK Insurance, which has paid the settlement sum.
Aeroflot Group says it is continuing negotiations to resolve further claims with other lessors of foreign-built aircraft.
It has already reached agreements with companies including AerCap, CDB Aviation and SMBC Aviation Capital.
BOC Aviation says the settlement is "consistent with all applicable sanctions regimes".
It adds that it will continue to pursue all opportunities for "recovery of the full value of all aircraft detained in Russia", but cannot give an estimate on any potential recovery value.