Iraqi Airways has taken delivery of its first Boeing 787, one of 10 that the Baghdad-based airline has on order.
The Iraqi government originally reached the agreement for the twinjets in late 2009.
"As domestic and international air traffic gains momentum, it's crucial that our Iraqi Airways fleet matches growing demand with more efficient, capable and comfortable airplanes," says the airline's director general, Manaf Abdel-Monem.
The 787-8 (YI-ATC) is fitted with General Electric GEnx engines. Boeing's backlog figures indicate the carrier is taking nine 787-8s and a 787-9.
Iraqi Airways says the twinjet has been configured with 266 seats in two classes, including 24 seats in the business cabin.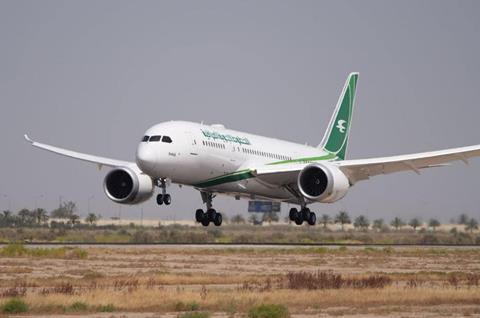 It was flown from the Charleston assembly plant and landed in Baghdad on 22 June.
Iraqi Airways has been undergoing a fleet modernisation which also involves introduction of Boeing 737 Max and Airbus A220 jets.
Boeing says the airline has 16 Max jets on order, of which 10 are the 737 Max 10. The other six are Max 8s, of which the carrier has received four.