Middle Eastern budget carrier Air Arabia has turned in a 78% rise in first-half net profit, reaching Dhs801 million ($218 million), on revenues of more than Dhs2.8 billion.
The Sharjah-based airline disclosed the performance after a strong second quarter during which it made a net profit of Dhs459 million – although it states that this included an exceptional one-off benefit from a supplier.
Air Arabia attributes the performance to strong travel demand. Over 7.7 million passengers flew with the carrier over the first half, from its seven hub airports.
Its average load factor over the period reached 81%.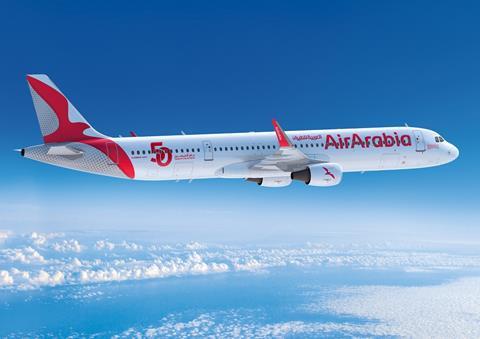 "Our steady performance in the first quarter continued to the second quarter underlining the consistency of our growth strategy and operational excellence," says chairman Sheikh Abdullah bin Mohamed Al Thani.
He says the airline has strengthened its fleet over the six months to 30 June. The airline added three aircraft to its fleet – giving it 71 single-aisle Airbus jets in total including nine A321LRs – and opened 18 new routes.
The airline has placed three aircraft with its new carrier in Pakistan and two with its Armenian operator.
"Despite a changing macroeconomic and geopolitical environment that we continue to witness, we remain focused on driving profitability and maintaining efficiency across the breadth of our operations, supported by prudent financial and cost control measures," says Al Thani.