Kazakh carrier Air Astana has formally commissioned a new flight-training centre, stating that it is the first in the Central Asian regional to have European Union Aviation Safety Agency approval.
The training centre is located at Astana's international airport.
It is equipped with a full-flight Airbus A320 Reality7e simulator supplied by L3 Harris, the airline's first – and the first for Kazakhstan, it adds.
Both Air Astana and its budget carrier subsidiary FlyArystan use A320-family jets in their fleets.
The centre is designed to enhance pilot-training capabilities within Kazakhstan and, in doing so, will avoid the previous need to send pilots overseas for training," says Air Astana.
It adds that more than 500 pilots will be trained at the 24h facility.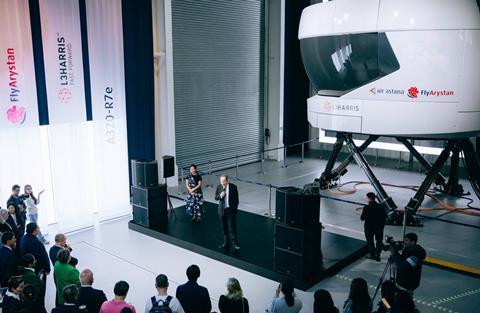 Air Astana chief Peter Foster believes the centre will not only benefit the airline directly but enable Kazakhstan to become a "regional leader" in the training sector.
He says it "demonstrates a strategic commitment to ensuring the very highest standards of flight personnel performance" as well as supporting a "steady flow" of new entrants to the local air transport industry.
Air Astana has also invested in a cabin emergency evacuation trainer, as well as a fire-fighting trainer, which will be inaugurated by the end of this year.