Latvian carrier Air Baltic has recruited financial advisors with a view to examining a potential initial public offering.
The Riga-based airline has jointly appointed UK-based STJ Advisors and Baltic firm Superia to review the company and a possible offering process.
Air Baltic chief Martin Gauss says a potential stock-exchange listing would be a "significant step" in achieving a "new level" in the airline's development.
He has not indicated a timeline for an IPO, nor the likely scale of the offering.
But credit rating agency Fitch, which recently assigned a rating to a planned Air Baltic bond issue of €300 million, stated in its assessment on 20 September that it expected the airline to launch an IPO before 2026.
It adds that it believes this is intended not only to strengthen its finances but also to "justify" to the European Union the "economic rationale" of pandemic support.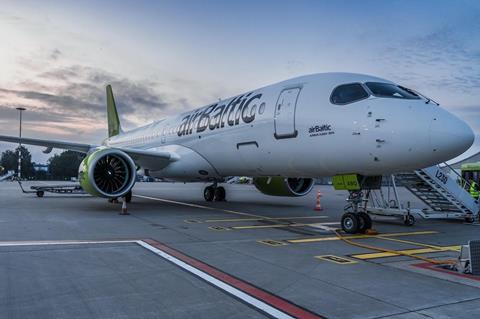 "The IPO would be key in allowing the company to grow its fleet while maintaining a sustainable financial structure," says Fitch.
Fitch says Air Baltic has a strong market position in its region, with a "streamlined and efficient" fleet of Airbus A220-300s, and a "solid operator" in wet-leasing alongside its own network services.
Air Baltic says the newly-appointed advisors' role is to review independently, and supervise, the IPO process, supporting stakeholders to ensure the "best possible outcome".
"We are determined to deliver even more excellence and further strengthen Air Baltic as the leading airline and brand of the Baltics," says Gauss.