Latvian carrier Air Baltic is extending its commitment to the Airbus A220, with an agreement which will take its fleet to 100 of the type by the end of the decade.
It is taking 30 more of the aircraft through a deal which also includes 20 purchase rights.
The airline was a launch operator of the A220-300 in 2016 and its fleet exclusively comprises the Pratt & Whitney PW1500G-powered twinjet.
Air Baltic serves a network of around 120 routes from five bases.
The airline will take its fleet to 45 A220s within a few days, and will complete its current agreement for 50 next year.
It will begin receiving the first of the next 30 jets from the fourth quarter of 2026.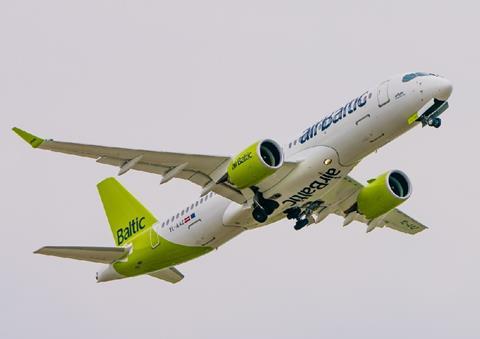 Chief executive Martin Gauss says the airline will use the aircraft to expand its Baltic bases but also provide extra capacity for its complementary wet-lease activity.
He says the airline has a "plan laid out" to expand in the Nordic region and take its operation to 100 aircraft, including the identification of future bases which have yet to be disclosed.
Gauss acknowledges that the airline has had a "difficult" summer as a result of issues with the Pratt & Whitney engine, with a "couple" of aircraft on the ground "missing engines" which were still under maintenance.
He believes that all aircraft which are not undergoing heavy maintenance will be available from November, but adds that the carrier is likely to be "short of a few engines next year".
Gauss says, however, that the engine situation has been "factored into" its development plans.
"The engine is maturing and we wouldn't place the order if we didn't have full trust in the aircraft and engine," he adds.
Airbus chief commercial officer Christian Scherer says the airline has become an "ambassador" for the aircraft.