Air Belgium is to cancel all its scheduled flights from October, to focus on other activity, and file for court-authorised restructuring in order to reduce debts.
The airline says its passenger operations are "proving to be chronically unprofitable" and it will instead focus solely on wet-lease and freight services.
Air Belgium says it has been "weakened" by the combined impact of the pandemic, the Ukrainian conflict, rising fuel prices and inflation.
"All these factors have had a very severe impact on the profitability of the business and on the cashflow," it adds.
Although the airline had been forecasting profitability by January next year, it says the difficult environment and continuing financial pressures are forcing the company to rethink its strategy.
It states that its board has opted to overhaul the company's development strategy and is to concentrate on its "growth-generating" wet-lease and cargo businesses.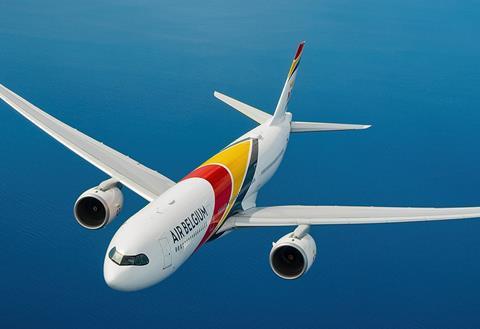 The airline will "discontinue" its own passenger business, which has struggled against increasing competition, on 3 October.
It had already stopped flights to the Caribbean over its inability to match substantially lower fares offered by French airlines, and has been focusing on South Africa and Mauritius.
"After numerous studies, Air Belgium's [board] reached the conclusion that turning a profit on this front would require substantial investments in addition to those already made in recent years, which has not been possible," the carrier says.
Air Belgium has asked the business court to initiate judicial restructuring proceedings.
"The court will examine the application in the coming days," says the carrier. "If it concurs to open such proceedings, the company will be able to negotiate agreements with its creditors so as to reduce its debt."
Air Belgium will seek more favourable terms and defer interest payments.
The airline, which employs 500 personnel, says it will also discontinue – or divest – unprofitable businesses which have "no prospect of viability". It says it intends to reassign employees in the passenger airline business to other activities within the company.
Air Belgium had previously disclosed that it was holding talks with a potential investor to reinforce its finances, after full-year losses deteriorated to €44.6 million ($49 million). Its auditor had expressed uncertainty over the airline's ability to continue operating.