Air Canada is to return the Boeing 737 Max to service at the beginning of February, after the Canadian civil aviation regulator detailed the requirements for clearing the aircraft for flight.
Transport Canada has disclosed an airworthiness directive covering the technical modifications and specific crew procedural changes that 737 Max operators need to undertake.
Air Canada says that, following the clearance, it will be restoring 737 Max services from 1 February, adding that it has conducted its own independent assessments of the jet and its new operational requirements.
The airline will first deploy the aircraft on flights from Toronto to Halifax, Montreal, Ottawa, Edmonton and Winnipeg.
But the carrier acknowledges that, given the publicity drawn by the aircraft's two-year grounding, passengers might not yet feel comfortable flying on the Max, and is offering the option to change bookings.
Vice-president of flight operations Capt Murray Strom says the carrier is "very confident" that the actions from Transport Canada and other regulators "ensures the utmost safety" of the fleet "from nose to tail and from wing to wing".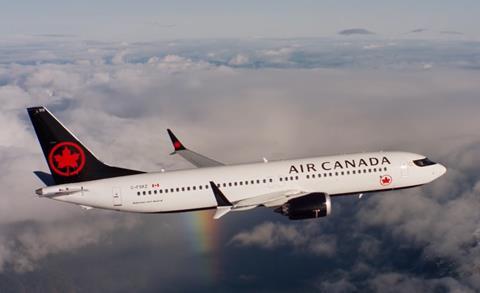 Transport Canada's directive builds on the initial approval issued by the US FAA in mid-November last year, adding a number of further requirements.
Air Canada has "gone beyond" the basic modification detailed by the FAA, says Strom, with features that "exceed required regulatory standards".
"These measures are backed by our industry-leading flight operations, the extensive, comprehensive training programmes our pilots and maintenance engineers regularly undergo, and our industry-renowned flight data analysis," he adds.
But Air Canada is nevertheless pointing out to passengers that they can check the aircraft type assigned to their flight through the booking-management links on the airline's website.
"While we are fully confident in the return of the Boeing 737 Max, we understand that certain customers may prefer alternate travel options," the airline states. "We have therefore instituted flexible change and cancellation policies."
Air Canada has 24 737 Max 8s configured for 165 passengers in a two-class layout.
Canadian operator WestJet has previously indicated plans to re-introduce the 737 Max to service from 21 January – deploying it between Calgary and Toronto – once Transport Canada approved the aircraft for commercial flights.
It has also adopted a policy of "transparency and flexibility" for passengers regarding the aircraft.
"We will be forthcoming with our guests on where the Max aircraft are flying, and we will be flexible with our change and cancel policy to ensure our guests can make their travel plans confidently," says WestJet chief executive Ed Sims.