Air cargo demand slipped again in February but exceeded pre-pandemic levels for the first time in eight months.
The latest statistics from IATA show that demand in February fell 7.5% year on year in cargo tonne kilometres (CTKs).
However, CTKs for the month were up 2.9% compared with February 2019 levels. The last time demand beat pre-pandemic levels was June of last year.
Also, the decline was lower than the 14.9% year-on-year decline recorded in January and the 15.3% fall in December.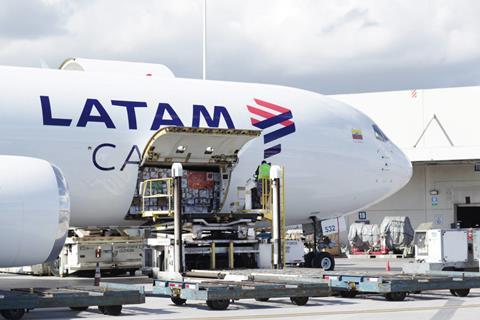 Cargo load factors for the month were down 7.9 percentage points compared with last year at 45.6% as capacity increased by 8.6%.
The increase in capacity reflects the addition of belly capacity as the passenger side of the business continues to recover.
IATA director general Willie Walsh says: "The story of air cargo in February is one of slowing declines. Year-on-year demand fell by 7.5%. That's half the rate of decline experienced in January.
"This shifting of gears was sufficient to boost the overall industry into positive territory (+2.9%) compared to pre-pandemic levels.
"An optimistic eye could see the start of an improvement trend that leads to market stabilisation and a return to more normal demand patterns after dramatic ups and downs in recent years."
Looking at market indicators, IATA said that the global new export orders component of the manufacturing PMI continued to increase in February and China's PMI level indicated that demand for manufactured goods from the country is growing.
Meanwhile, global goods trade decreased by 1.5% in January, which was a slower rate of decline than the previous month of 3.3%.
Looking at regional performance, Asia Pacific airlines saw their air cargo volumes decrease by 6% year on year in February 2023 compared to the same month in 2022.
"This was a significant improvement in performance compared to January (-19.0%)," IATA says. "Airlines in the region benefitted from China's reopening, which saw restrictions lifted and economic activities resumed."
Carriers based in North America saw their cargo volumes decline by 3.2% in February, described as a "solid improvement" in performance compared to January.
"Notably, the region saw a significant increase in international demand in February which boosted its market share in international cargo traffic to beyond pre-pandemic levels," IATA says.
European carriers continued to face tough conditions as demand fell by 15.3%, although this is an improvement on the 20.4% fall in January.
Middle Eastern carriers experienced an 8.1% year-on-year decrease in cargo volumes in February, while Latin American airlines suffered a 2.7% drop in demand.
African carriers reported a 3.4% fall but this was an improvement compared with January.
"Notably, the Africa to Asia route area experienced significant cargo demand growth in February," IATA says.
Damian Brett is editor of Air Cargo News