The air cargo market is facing a set of challenges in 2023 that mean its pandemic-era demand highs are firmly in the rear-view mirror.
But as speakers pointed out at IATA's recent World Cargo Symposium in Istanbul, that does not mean air cargo is returning to its pre-crisis status within the wider industry.
"Air cargo is a different industry [from] the one that entered the pandemic," said IATA's global head of cargo Brendan Sullivan as he opened the symposium. "Revenues are greater than they were pre-pandemic. Yields are higher. The world learned how critical supply chains are. And the contribution of air cargo to the bottom line of airlines is more evident than ever.
"Yet, we are still linked to the business cycle and global events," he continues. "So, the war in Ukraine, uncertainty over where critical economic factors like interest rates, exchange rates and jobs growth are concerns that are real to the industry today."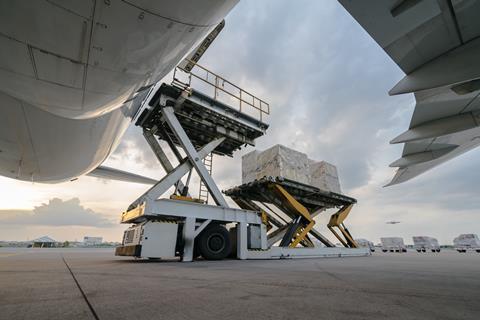 Indeed, in early May, IATA released its latest data on the sector, showing that air cargo demand slipped back below pre-Covid levels in March after a volatile first quarter.
Cargo tonne kilometres in March fell 8.1% compared with 2019, having shown an improvement against 2019 in February.
In year-on-year terms, cargo tonne kilometres (CTKs) declined 7.7% in March – an improvement on the percentage declines registered for most of last year.
Meanwhile, cargo load factors in March slipped 8.8 percentage points from a year ago to 46.2%.
The airline association notes that the purchasing managers' indices for new export orders and for China had both fallen below the 50-mark in March, indicating declining confidence.
There were also indications of high inventory levels, which does not bode well for air cargo.
Such developments reflect a mixed picture for the full-year outlook, with IATA economist Bojun Wang predicting at the Istanbul symposium that air cargo demand was set to decline by 4% compared with 2022 levels, reflecting the ongoing challenging economic environment.
Wang points out that the International Monetary Fund has recently downgraded its GDP growth outlook for the year to 2.8% from a previous forecast of 2.9%. That figure also lags behind the 3.4% recorded in 2022 and the historical average of around 3.8%.
CONTRIBUTING FACTORS
"We had a challenging year in 2022 with the war in Ukraine, a high inflation rate, high oil prices and the Covid-19 pandemic – these headwinds haven't really gone away in the new year of 2023," Wang says.
On the other hand, inflation is expected to have peaked in 2022, he states.
Wang adds that yields are expected to decline by around 23% this year, following on from a 7% increase last year, a 24% increase in 2021 and a 50% increase in 2020.
"23% seems like a big shift, but if you look at the growth in 2021, 2022 and 2023, it is just returning from a high level," he says.
This yield and demand decline will in turn put pressure on air cargo revenues, although they are expected to remain more than 50% above pre-Covid levels.
Looking at supply figures compared with pre-Covid levels, Wang says increases are being driven by the return of bellyhold capacity, which was at 41% of the total capacity in the market in March, up from 26% last year. Historically, bellyhold has accounted for around 50-60% of the market capacity.
Another trend highlighted by Wang is that air cargo's competitive advantage over maritime has ended as shipping prices have declined in recent months.
The high cost of ocean shipping and market disruption had helped push volumes over to air freight during the pandemic.
At the same time, pressure on airline operating costs remains due to elevated jet fuel prices.
"We are also expecting to see fuel prices remain at a high level even though it is trending downwards," Wang says.
Also speaking in Istanbul, Sander Schuringa, manager of market intelligence at Seabury Cargo, says that the fashion, chemicals, pharma, raw materials, high-tech and automotive industries are largely responsible for the air-freight demand decline and the shift back to ocean.
Schuringa also points out that while demand for air cargo has declined, capacity continues to tick upwards.
Reporting by Damian Brett, Rebecca Jeffrey and Megan Ramsay from Airline Business sister publication Air Cargo News
Read the newsletter for free every week by signing up to the Airline Business Weekly Briefing