Just six aircraft ordered by Air France-KLM have so far been pushed back to later delivery slots in the past six months, although KLM has yet to detail its full fleet plan.
Air France-KLM states that its competitiveness and sustainability is closely tied to its fleet and network strategy.
"Mid- and long-term fleet investments drive the exit from the current crisis," it says. "The group therefore intends to keep the schedule as much as possible intact of committed fleet deliveries between 2021-25."
It has taken delivery of three Airbus A350s and a single Boeing 787-10 this year.
Air France-KLM will not receive any further A350s this year. Two of the three additional aircraft it had intended to take this year are being deferred to 2022 while the third will be postponed to 2023. The company will receive seven and eight A350s in these years respectively.
Four more 787s are still scheduled for delivery in 2020, although two others – due in 2021 and 2022 – are delayed to 2024, while a Boeing 777 for 2020 is being deferred to next year.
But none of the 60 Airbus A220s ordered by Air France has been shifted from its delivery position. The carrier still intends to take its first six in 2021.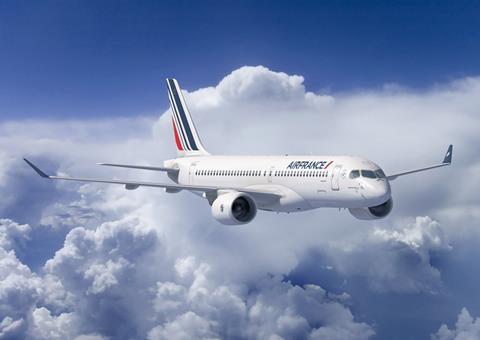 Air France has already taken the decision to withdraw its Airbus A380 and A340 fleets, while KLM is retiring its Boeing 747s.
KLM is due to detail its fleet plan around October, according to Air France-KLM chief executive Ben Smith.
Speaking during a half-year briefing, Smith said Air France's lack of historic investment has resulted in a high average fleet age, and high unit costs.
The modernisation, he says, aims to avoid capital expenditure on life extension by phasing out aircraft, optimising the interior of the remaining fleet, and staying in line with the committed renewal plan.
Smith says the medium- and long-term fleet investment is "essential" to meet future competitiveness and sustainability targets, pointing out that the A350-900 gives an 18% fuel saving against the 777-200ER, and the 787-10 is 20% more fuel-efficient than the A330-300.
Budget airline Transavia is set to play a crucial part in the restructuring and recovery, because Smith says Air France "must deal with" its unprofitable domestic network – stating that it made a €200 million loss last year.
He adds that negotiations with cockpit union SNPL, to put costs on a par with low-cost competitors, have been critical to the strategy. The plan has depended on lifting a 40-aircraft cap at Transavia France and using the flexibility to restructure domestic activity.
"We're going have in place a tool that Air France has never had in the past, to be able to finally address the issue of profitability in the domestic market," says Smith.
"If this vote goes through in positive way…we'll replace our most unprofitable flights in domestic France, as quickly as we can, with Transavia."
Air France will maintain the 'La Navette' routes between Paris Orly and key southern French destinations, but Transavia will be used for other routes from the capital airport.
Smith says regional carrier Hop will be "cut in half" and refocused as a feeder to Paris Charles de Gaulle and Orly, while a "mini-hub" at Lyon will be maintained. Hop, which has retired its ATRs and Embraer ERJ-145s, will serve some routes from Lyon but Transavia will take over those with the largest flow.
Other routes, outside of Lyon, which do not connect with Paris are likely to be "eliminated", says Smith.
Unprofitable domestic routes and those competing with a high-speed train service of less than 2h 30min will also be axed.
Air France-KLM has not committed to any aircraft intended to expand the Transavia fleet.
"However, we have a lot of flexibility because of the availability of aircraft on the market," says Smith.
He says the return of activity on the domestic market has been "very encouraging", with customers showing a "high level of confidence" which signals promise for the re-opening of other intra-European routes.