While Air France-KLM Group would initially have a non-controlling stake in Scandinavia's SAS, the company has indicated that the investment agreement includes a potential avenue to becoming a controlling shareholder.
Air France-KLM's emergence as a participant in the investment consortium for SAS underlines its strategy to help drive consolidation, and will shake up the structure of European airline relationships by wrenching SAS away from Star Alliance and bringing into SkyTeam.
SAS was a founding member of Star Alliance and, through it, has had strong links with Lufthansa – another of the founders – for more than 25 years.
Over that period Lufthansa has been floated as a prospective SAS investor, with share prices tending to shift at each suggestion of possible tie-up talks. The two were equity partners in UK carrier BMI before SAS sold its share to Lufthansa, which then sold BMI to British Airways parent IAG.
Although the three Scandinavian states that owned SAS have gradually relinquished their hold, Lufthansa's flirtation has never evolved into a more formal equity arrangement – hardly helped by uncertainty over SAS's financial situation, the airline having embarked on several restructuring efforts over the past two decades.
SAS's firm rooting in Star and the allegiance of Finnair to Oneworld had served to limit SkyTeam's partnership options in the Nordic market, even before IAG's ultimately-aborted dalliance with budget carrier Norwegian. Air France-KLM's efforts to set up a Danish subsidiary of Transavia were short-lived.
But Air France-KLM will take a 19.9% stake in SAS, investing $144.5 million as part of the consortium set up to rescue the Scandinavian operator which has been restructuring under US Chapter 11 protection.
The Air France-KLM contribution will include $109.5 million invested in common shares and another $35 million in secured convertible bonds.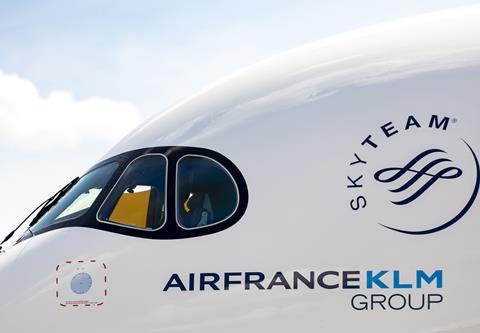 "With its well-established position in Scandinavia and strong brand, SAS offers tremendous potential to Air France-KLM," says Air France-KLM Group chief Ben Smith.
"This co-operation will allow Air France-KLM to enhance its position in the Nordics and improve connectivity for Scandinavian and European travellers."
Air France-KLM – which says it seeks to "play an active role" in European aviation consolidation, is looking to establish a commercial co-operation with SAS as part of the agreement, broadening access to the SkyTeam airline's network, and indicates that its ownership ambitions could evolve.
Under the investment plan, it says, there will be "specific provisions" whereby Air France-KLM's stake "may be increased" such that – after a minimum of two years – it "may become a controlling shareholder".
Such an avenue, to be outlined in the definitive SAS investment agreement between the consortium members, would be subject to financial performance and regulatory conditions.
Financial firm Castlelake will initially be the largest equity holder in SAS, with a 32% share, while the Danish government – the only one of the original three Scandinavian owner states to retain an interest – will have 25.8%.
Air France-KLM will take 19.9% and Lind Invest will hold 8.6%, with other creditors allocated the remaining 13.6%.