Air France-KLM Group is to acquire 50 more Airbus A350s, which will include both the -900 and -1000 variants.
The company has unveiled a planned order which will also include purchase rights for another 40 aircraft.
It says the aircraft will be assigned to the Air France and KLM fleets and replace older twinjets including the Airbus A330 and Boeing 777.
Deliveries of the aircraft will take place from 2026 and run to 2030.
"This will be an evolutionary order, providing the group with flexibility to allocate aircraft within its portfolio of airlines, according to market dynamics and local regulatory conditions," the company states.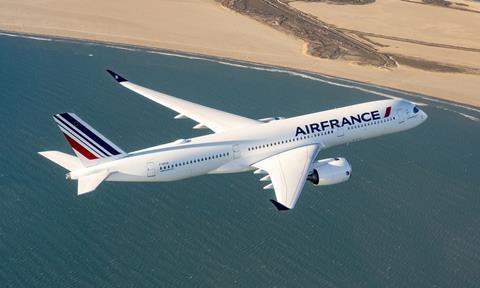 Air France-KLM already has orders for 41 A350s – all the -900 version – of which 22 have been delivered so far.
"This new order will be a major step in the renewal of the group's fleet," says chief executive Ben Smith.
"It is the perfect fit for the network needs of the group and boasts outstanding performances. It is a quieter, more fuel-efficient and more cost-effective aircraft compared with previous generations."
Smith adds that it will be "instrumental" in supporting the company's efforts to achieve sustainability targets.
Air France-KLM is set to become the largest A350 operator as a result of the agreement, although finalisation remains subject to approval.
All A350s are powered exclusively by Rolls-Royce Trent XWB engines.
"This is a huge milestone in our long standing partnership," says Airbus chief commercial officer Christian Scherer.