Air India has unveiled a new livery scheme, which will be introduced with the arrival of the carrier's first Airbus A350 towards the end of this year.
The airline's owner, Tata Group, is revamping the flag-carrier's colours as part of its transformation programme.
Air India recently placed an extensive order for 470 aircraft to modernise the fleet.
Its new livery design features a new font and a red-gold-purple fin motif inspired by the traditional Indian window-frame historically used by the carrier.
Air India says the logo – which it calls the 'Vista' – signifies "limitless possibilities, progressiveness, and the airline's bold, confident outlook for the future".
"Our transformative new brand reflects an ambition to make Air India a world-class airline serving guests from around the globe," says chief executive Campbell Wilson.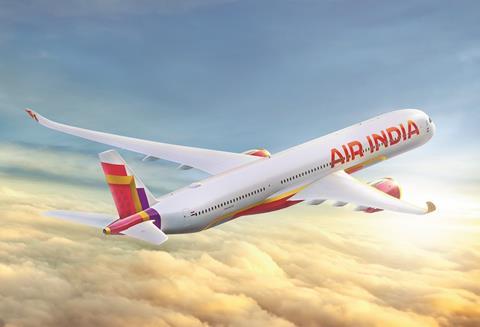 The livery has been developed in co-operation with specialist FutureBrand.
"Colours, patterns, shapes and how they come together and what they represent matter, but our actions speak so much louder," says Wilson. "We are in the midst of a total transformation to reimagine the role of India's flagship airline."
Air India aims to purchase and lease 20 long-haul aircraft this year to start the overhaul of its fleet, and it will embark on a programme to refurbish 43 older aircraft from the middle of next year.
"By March 2024, [one-third] of the airline's widebody fleet will be upgraded, and over the next two-and-a-half years its entire long-haul fleet will be reborn," it says.