Air Montenegro has increased its fleet to four aircraft, with the addition of an Embraer 190 regional jet.
The aircraft will complement two E195 and an Airbus A320 and enhance the carrier's capacity for the summer season.
Air Montenegro has come under new leadership with the appointment of former Adria Airways head Mark Anzur as its chief executive.
The E190 – configured with 104 seats – is wet-leased from Ukrainian carrier Windrose Airlines, and was formerly operated by Ukraine International Airlines prior to the Russian conflict.
Air Montenegro says the aircraft gives the carrier an overall seat capacity of 500, and its looking to transport nearly 500,000 passengers this year.
It is operating a network of 16 destinations from Podgorica and Tivat.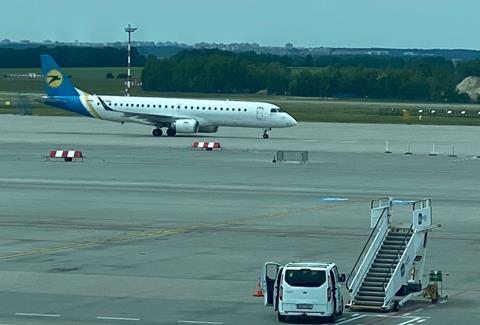 "The current state of capacity sales, flight occupancy and the average sales tariff confirm the belief that this will be a record year in the national carrier's business," the airline says.
"Bearing in mind that the high tourist season is ahead of us…we believe that the introduction of the fourth aircraft is very important."
Air Montenegro emerged in mid-2021 as a successor to former flag-carrier Montenegro Airlines.
Anzur, who has disclosed that he took over as chief executive in June, was formerly a senior figure at Irish regional operator Stobart Air.