Investigations into the financing of Spanish regional carrier Air Nostrum's fleet renewal have been closed, after the airline reviewed its investment plans in the wake of the air transport crisis.
The European Commission had opened, in October last year, an in-depth probe into the public support offered by the Valencia region to the carrier.
Some €9 million ($10.7 million) had been provided but the Commission had expressed doubt that the funding fell within state-aid rules covering exemptions for environmental protection.
Air Nostrum has, however, revised its investment plans and "renounced" the funding intended for the renewal, says the Commission.
"None of the aid has been paid out," it adds. "Spain accepted the renunciation and repealed the aid measure.
"As a result, the Commission's investigation has become without object and the Commission therefore closed its investigation."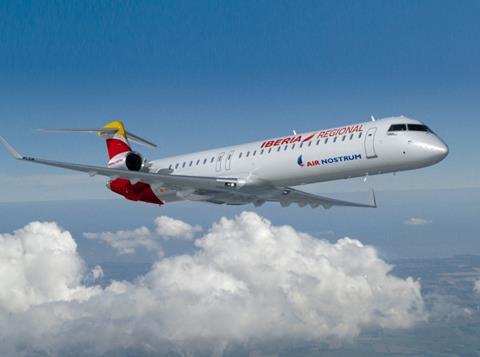 Air Nostrum had submitted a request to the Valencia regional government in March 2017 for a non-repayable grant, up to €15 million, to fund the acquisition of new aircraft.
It stated that it aimed to renew up to 12 aircraft in the fleet, claiming environmental benefits from the modernisation.
Air Nostrum subsequently introduced new Bombardier CRJ1000s, of which 10 were subject to the aid requested. The CRJ1000s replaced smaller CRJ900s and CRJ200s.
Spain's government submitted in May last year that the Valencia region would provide funding of €3 million per year, for three years, to Air Nostrum to cover the 10 CRJ1000s.
European Commission regulators were alerted to the funding by a competitor carrier which formally complained that Air Nostrum would gain an unfair advantage over airlines which had to finance fleet updates themselves.