Air Serbia is to open a new long-haul service connecting Belgrade to the Chinese city of Tianjin before the end of the year.
The airline is to open the connection on 9 December.
Air Serbia will deploy Airbus A330 twinjets on the route.
But continuing Chinese restrictions from the pandemic mean the frequency will be limited to a once-weekly operation, the carrier states, and the airline acknowledges that the ground time the aircraft will spend in Tianjin – more than 24h – is "not optimal".
Its predecessor airline, JAT, previously served China with a connection to Beijing but this was withdrawn more than two decades ago.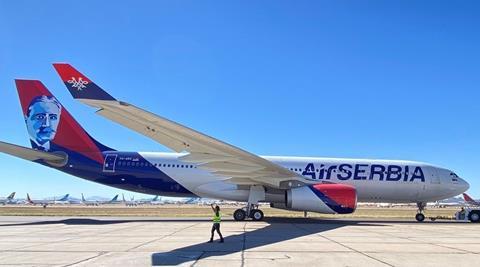 Few Chinese services are currently being offered by European carriers.
"In spite of the still-limited international air traffic with China, and strict rules imposed since the outbreak of the coronavirus pandemic, our airline has succeeded in obtaining all the necessary permits and completed all preparatory activities," says chief executive Jiri Marek.
He believes the operation will lift "strong economic and cultural relations" between the two countries.
Air Serbia could potentially expand its Chinese service to other cities including Beijing and Shanghai, Marek adds.
"We will continue to closely monitor the status of [pandemic-related] restrictions and promptly react on new opportunities, once the market access limitations have ended," he says.