Air Tanzania has outlined initial cargo services including cities in the Middle East and India, after introducing a Boeing 767-300 freighter to its fleet.
The airline states that its cargo network will include flights to Dubai and Mumbai, as well as the African destinations of Kinshasa and Lubumbashi from 26 June.
Air Tanzania received the new-build twinjet – registered 5H-TCO, and powered by General Electric CF6 engines – on 3 June, after ordering it in mid-2021.
Boeing says the transfer is its first direct delivery of a 767 cargo jet to an African carrier.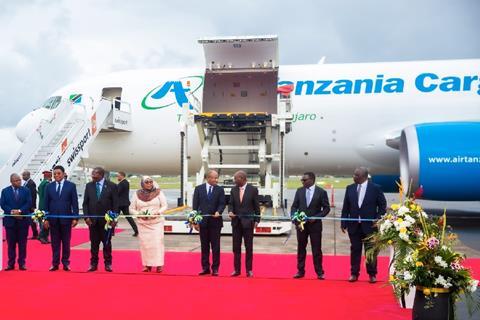 "We are looking forward to expanding our imports and exports industry that require timely delivery," says Air Tanzania managing director Ladislaus Matindi.
"Arrival of the aircraft will open opportunities for global businesses to transport commercial cargo goods to various parts of the world, which will boost national economic growth."
Air Tanzania operates a fleet which includes Boeing 787s, Airbus A220s and De Havilland Dash 8s, and it has another 787 and two 737 Max jets on order.