Among the legal jousts between Airbus and Qatar Airways arising from their court clash is an attempt by the airline to prevent the airframer from reselling A350s built for the carrier but individually cancelled after Qatar's refusal to take delivery.
Airbus has been cancelling A350s which had been completed and were ready for delivery to Qatar, citing breach of contract, but the carrier is trying to stop the airframer from acting on the termination notices and selling the jets to third parties.
Qatar Airways also wants to stop Airbus from cancelling any further A350s.
The carrier had 42 A350-1000s on order, of which 19 have been delivered. But Airbus has cancelled three of the remaining aircraft so far, after Qatar refused delivery – a decision driven by the dispute over skin-paint deterioration on the type. Among the A350s for which Airbus has served termination notices, and aims to offer to third parties, are MSN409 and MSN430.
Documents filed with London's High Court, for a 26 April hearing, show that Airbus believes Qatar's motive is to put its A350 deliveries "on hold".
The airframer argues that there is no basis for an injunction to prevent termination of A350 deliveries, because Qatar's central case is that the A350 – owing to the paint deterioration – is unsafe.
If Qatar's point is valid, then the airline is legitimately entitled to reject delivery of the aircraft and therefore Airbus's termination of delivery, based on wrongful rejection, would already be contractually ineffective.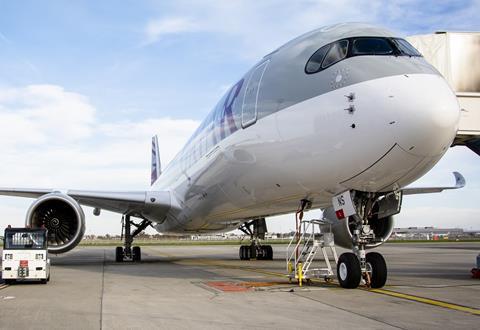 Airbus also argues that there is no basis for an injunction to prevent resale of the rejected A350s to other carriers.
If the rejected aircraft are defective, as Qatar maintains, they cannot be redesigned or rebuilt. Qatar must therefore never want to take delivery of them, and cannot claim to suffer if Airbus sells them to a third party.
Airbus's court filing claims the "obvious inference", from Qatar Airways' seeking the injunctions, is that the airline "does not genuinely believe" that the A350 is defective – and that it is looking to "preserve a pool" of new A350s which it would accept at a later date.
Qatar Airways argues that Airbus would not suffer any burden except to maintain the undelivered aircraft, whereas the airline would be unable to obtain similar replacement aircraft if they were resold.
But Airbus rejects both points. It says it will be "left holding" manufactured or partly-manufactured A350s, with no avenue to realise their commercial value – which would depreciate over time – and with costs that not only include maintenance but storage and insurance.
The airframer also dismisses the suggestion that Qatar could not source comparable aircraft to meet capacity requirements – although the airframer is particularly sceptical over Qatar's claim that it needs this capacity at all.
While Qatar has been leasing Oman Air Airbus A330s, this additional capacity is far short of that lost by the airline's grounding over 20 of the larger A350.
As demand slumped during the pandemic, Qatar had publicly insisted it would not be forced to take delivery of aircraft which were not needed. Airbus's court filing claims that the carrier could accept newly-built A350s, to meet any capacity requirements, but that not receiving them "suits" the airline.
Qatar Airways is seeking damages for the A350 grounding, having alleged that the skin-paint damage amounts to an airworthiness concern. The damages claim had totalled over $982 million by the end of March.