Airbus and Qatar Airways have averted a high-profile court trial after reaching a settlement to resolve their legal clash over the airline's A350 fleet.
The two sides state that they have reached an "amicable and mutually-agreeable settlement", the details of which are confidential.
Their dispute centred on the deterioration of skin paint on the A350s, and specifically the grounding of several A350s by the Qatari Civil Aviation Authority.
While the regulator had cited safety reasons for the decision, this justification had been challenged by the airframer given that the European Union Aviation Safety Agency and other authorities had not questioned the airworthiness of the type.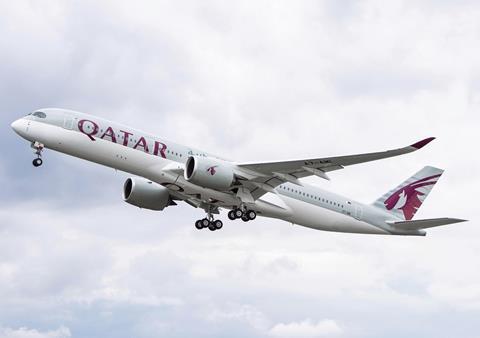 The two sides state that a "repair project" is underway to address the skin-paint problem.
"Both parties look forward to getting these aircraft safely back in the air," they add.
Airbus and Qatar Airways will proceed to "discontinue" their legal claims, adding that the settlement is not an admission of liability by either side.
"This agreement will enable Qatar Airways and Airbus to move forward and work together as partners," they state.
Qatar Airways' remaining orders for A350s, as well as its entire order for A321neos, had been cancelled by Airbus as a result of the dispute.