Airbus has lodged claims against Czech Airlines totalling nearly Kc17 billion ($814 million) in regard to payments for seven aircraft which were ordered by the struggling flag-carrier.
Czech Airlines filed for insolvency earlier this year and creditors had been instructed to submit claims for receivables. The insolvency register lists over 6,400 claims including entries on 20 May from both Airbus and the Airbus Canada partnership.
Airbus's claims centre on Czech Airlines' order for three A321XLRs and four A220-300s, an agreement reached in 2019 when the carrier rejigged a previous order for seven A320neos.
The total claim in relation to the A321XLR order amounts to Kc12.14 billion, comprising 11 categories of receivables, while that for the A220s totals Kc4.84 billion covering seven categories.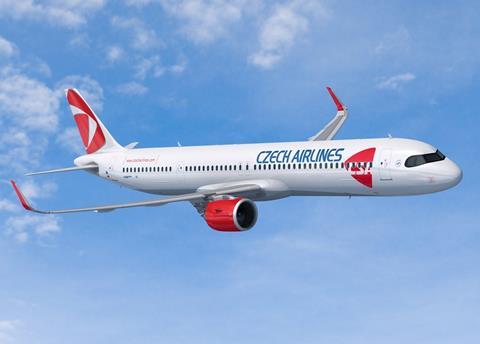 For the A321XLRs, the airframer is claiming for the unpaid part of the total purchase price, some Kc2 billion for each of the three aircraft, with minor differences depending on the individual configuration.
But it is also separately filing a Kc6 billion compensation claim for other damages, including lost profits, arising from "breach of the debtor's contracts".
Nine other smaller claims relate to software, products and technical service details for the twinjets, such as those for navigation and ADS-B systems.
Airbus Canada has filed similar claims over the four A220s including the unpaid purchase price of around Kc525 million for each aircraft – a total of Kc2.1 billion – plus compensation of Kc2.4 billion.
The airframer has annexed to its claim a "number of reminders" sent to the debtor pointing out that it is "in default" of contractual obligations under the purchase agreement.
Airbus Canada has also lodged separate partial payment claims relating specifically to the third and fourth A220s ordered by the airline.