Airlines are maintaining the focus on air cargo that they gained during the Covid-19 pandemic, according to IATA director general Willie Walsh.
Walsh, speaking to FlightGlobal's sister publication Air Cargo News at the IATA World Cargo Symposium in Istanbul, says that it was natural that airline management would focus on passenger operations as carriers continued to roll out networks following the pandemic.
However, he adds that the focus on cargo that had developed over the last couple of years would continue.
"Airline management teams have a much greater appreciation for cargo, how the cargo industry operates, the value of it, what it meant to the industry and what it meant to airlines in terms of cash generation through that very difficult period in 2020 and 2021," Walsh says.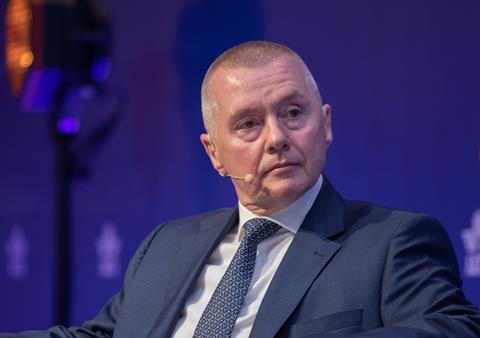 He continues: "It is not that people aren't interested in cargo any more; it is just natural that there is a focus on rebuilding the passenger network, which has a direct relationship as well with the importance of bellyhold."
Walsh points out that there has been a spate of combination-carrier investments in freighters as airlines realise the importance of all-cargo aircraft for some of the contracts they compete for.
He also points out that from a business perspective, it makes sense for carriers to diversify revenue streams to offer protection against market disruption. Cargo, like a wide geographic spread, has a role to play in this approach, he says.
"You want to have a basket of potential revenue streams, you don't want to have all your eggs in one basket," he states.
On IATA's future focus on cargo, Walsh says that sustainability was top of the agenda, with digital transformation and safety and security also of importance.
"In terms of threat to our industry, it is sustainability," he says.
"We have got to be able to demonstrate that we are not just committed to changing but that there is evidence of use changing and it has become so important."
Walsh says that he has been surprised that there is a greater emphasis on sustainability from cargo customers than on the passenger side of the market.
He says the pick-up on offsetting and paying for sustainable fuel was just 1% in the passenger market.
"The awareness and the willingness are much higher on the cargo side," he notes. "The industry is very much aligned in terms of all of the players when it comes to the environmental challenge that we face."
Another challenge facing cargo, as well as the wider aviation industry, is recruitment.
Here Walsh says that airline managements were noticing an improvement in numbers applying for roles of late.
He feels that some of the recruitment issues aviation has experienced of late were temporary rather than structural and would ease as people regained confidence that the sector was through the recent phase of uncertainty.
However, he adds: "But we do face a challenge there because employment levels, globally, remain very high and people have choices that they didn't have before.
"In an environment where you are competing for talent you have got to make your industry look as attractive as possible. The uncertainty around our industry hasn't helped us."
Another trend in cargo this year has been declining rates as capacity increased and demand subsided.
Walsh says that this drop-off in pricing is partly related to cargo increasingly being able to share the cost of operating with the passenger side of the business.
He explains that during the pandemic, cargo had to bear the brunt of the fuel, airport and landing fee costs rather than an incremental part of the cost as they were shared with passenger operations.
"The cost associated with transporting a kilo of cargo went up significantly during the pandemic and it looked like the yields showed massive profits, but what it didn't show was the significant increase in costs," he says.
Damian Brett is editor of Air Cargo News