Newly-launched Italian carrier ITA Airways is intending to join the SkyTeam alliance, continuing the allegiance of its predecessor Alitalia.
The new carrier initiated operations on 15 October, with an Airbus A320 service from Milan Linate to Bari, and started charter flights with a Milan Malpensa-Rome Fiumicino sortie.
Its initial network of 44 destinations, covered by 59 routes, will increase to 74 destinations and 89 routes by 2025. The company has signed ground-handling and maintenance pacts with Alitalia, which remains in administration.
ITA says it will "focus" on Fiumicino and Linate with the aim of being the "reference airline" for business and leisure traffic.
It adds that it will join the SkyTeam alliance and introduce codesharing with other SkyTeam carriers to increase connectivity – although it says it will depend on its identifying a "strategic partner".
Alitalia previously had equity tie-ups with SkyTeam's Air France-KLM as well as Abu Dhabi's Etihad Airways.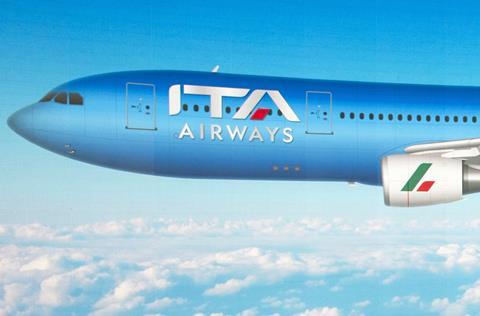 ITA starts with a fleet of seven long-haul and 45 short-haul aircraft but plans to expand to 78 aircraft – comprising 13 long-haul and 65 short-haul – next year.
The fleet will shift into triple figures by 2025, when the airline expects to have 23 long-haul and 82 short-haul jets, a total of 105.
It has already reached preliminary agreements to acquire multiple Airbus aircraft – including 28 from the airframer and 31 from US lessor Air Lease.
ITA insists it will pursue an environmentally-friendly agenda with a number of initial flights from Rome already using blends of sustainable fuel produced by Italian energy firm Eni.
"The new company was born under the banner of sustainability," the carrier states, adding that it intends 75% of its 2025 fleet to be "low environmental impact" aircraft.
ITA has recruited 2,800 personnel, a figure it expects to double to 5,750 in 2025.
While ITA says it reserves the right to use the Alitalia brand, which it acquired from Alitalia's extraordinary administrators, it has unveiled a completely different livery from the perennial design of the former flag-carrier.
The livery base is blue, a colour which has historically royal roots and became representative of Italian unification in the 19th century. Blue is also linked to the country's presidential emblems, the Italian armed forces, and the 'Azzurri', Italy's national football team.
ITA says the colour reflects "unity, cohesion and pride". The livery also features the Italian green-white-red tricolour on the aft half of the vertical fin.
"The choice of the new ITA Airways brand stems from listening to people and their level of satisfaction, pursuing one of the fundamental pillars of the business plan – customer centrality," says the airline.
It states that this customer focus will be one of four "pillars" for the company, alongside innovation, sustainability and digitalisation.