While the most stringent of Covid travel restrictions have been removed across Asia-Pacific, continued measures and the relatively late reopening of key markets in the region mean it will not be until 2024 before pre-pandemic activity levels are restored.
Countries in the region began reopening from the pandemic at greater pace last summer and director general of the Association of Asia-Pacific Airlines (AAPA), Subhas Menon says airline capacity is back at just over half pre-crisis levels.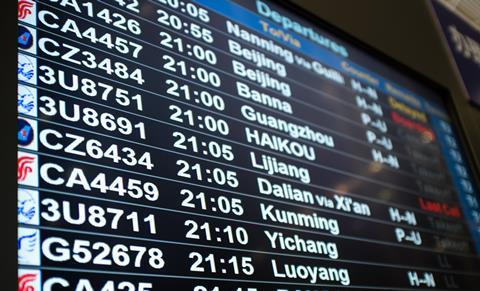 "It's not even been a year. So it's quite an achievement," he tells FlightGlobal. "By the end of the year it will be two-thirds [2019 levels] and hopefully by 2024, we will put this behind us. We want to start normality. [But] we still have a way to go.
"Some of the big markets were very slow to open up," he says. Japan eased many of its Covid restrictions in October, though it will only next month end its remaining Covid-related entry requirements
China's sudden easing of some of its tightest Covid travel restrictions, including the quarantine requirement, at the start of the year was a further boost in the region. However restrictions stifling tourism have remained. China only last month began reissuing tourist and other visitor visas, and while it has expanded the list of countries to which outbound group travel is permitted, this still does not include markets including Australia, Japan and the USA.
"That has an effect on the whole region," Menon says, noting China accounts for about 40% of Asia-Pacific traffic – including its sizeable domestic market. "That is a big chunk that is missing," he says.
The reopening of markets – and strong yields – have helped airlines in the region post improved financial results in the past couple of quarters. "More and more airlines are reporting positive cashflow and operating profits, which is a good sign," he says.
However challenges remain. Fuel costs in particular are weighing heavily. "The crack spread is the highest its ever been. That is a major concern," says Menon. He also flags managing increased debt levels, amid currency and macro-economic challenges as a further issue.
That is on top of the labour shortages, supply chain and aircraft delivery issues which cap the pace of restoring capacity that airlines across the industry continue to wrestle with.
Further potential for concerns comes from escalation of heightened tensions between China and the west over Taiwan. "What happens in the Taiwan Strait effects everyone in the Asia-Pacific," notes Menon. "The west cannot afford to isolate China, and neither can China afford to be isolated."