ASL Aviation Holdings is ordering up to 20 more Boeing 737-800 converted freighters, to be modified by the US airframer.
The aircraft will be allocated to ASL's airlines in Ireland, France and Belgium as well as joint-venture operations in Asia.
Conversion work will commence in the second quarter of next year, following on from the completion of ASL's current backlog for the type.
Ten of the 737-800BCFs will be firm orders and the company is placing options on a further 10.
Boeing will convert the aircraft at the Chinese STAECO facility in Jinan as well as its London Gatwick operation.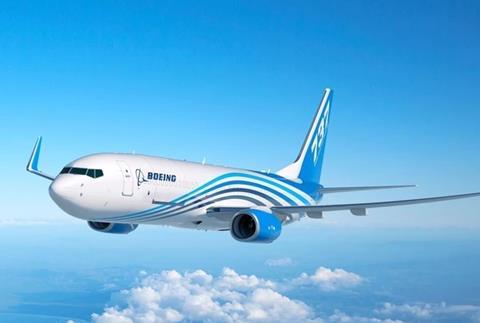 The agreement is an "important element" of the carrier's fleet-renewal programme, says ASL Aviation Holdings chief Dave Andrew.
He says the 737-800BCF has proven to be an "excellent fit" with customer requirements across its network.
"[It] offers increased reliability and performance and, equally, its lower fuel-burn reduces our environmental footprint," he adds.
ASL initially ordered 10 firm and 10 optioned aircraft in 2019, with the first entering service with the company's French division in early 2021. ASL subsequently firmed the 10 options.
Its latest agreement will potentially bring to 40 the number of 737-800BCFs in the ASL fleet.
The company has taken delivery, so far, of 11. They are operating for its Belgian and French carriers as well as its Thai venture K-Mile Asia.
Two further aircraft are undergoing conversion, with seven more from the initial batch to follow, and the last of these 20 will enter service by early 2023.