Russian carrier Aurora has signed a preliminary agreement to acquire eight Sukhoi Superjet 100s through state leasing company GTLK.
Aurora will introduce the aircraft as part of a scheme to create a dedicated carrier for the far eastern region of the country.
The agreement was signed during the Moscow MAKS 2021 air show, which opened on 20 July, in the presence of Russian trade and industry minister Denis Manturov.
GTLK says the Superjets will be delivered over the course of 2022-24.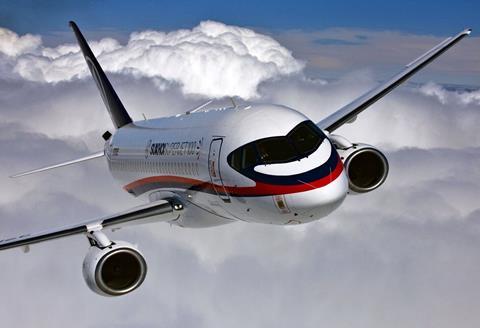 The lessor says the establishment of a far eastern airline will be a "breakthrough" in organising air transport for the more remote parts of Russia.
It will enable improved transport access in the region, widespread modernisation of the fleet, and greater utilisation of aircraft.
GTLK says the scheme will include the introduction of some 45 aircraft by 2025 – these will include Ilyushin Il-114-300s, modernised L-410s and the Baikal Engineering LMS-901.
The use of domestically-built types is part of a strategy for the new carrier following Russian president Vladimir Putin's order to set up the airline.
"We are grateful to our partners for their trust and are pleased to continue the program of preferential leasing of domestic aircraft," says GTLK chief Yevgeny Ditrikh, who formerly served as transport minister.