Russian regional carrier Khabarovsk Airlines is to be integrated with the unified eastern carrier being created under operator Aurora Airlines, through a newly-signed shareholder agreement.
The agreement covers key aspects of corporate governance of Khabarovsk Airlines, which has a fleet of Antonov An-24, An-26 and Let L-410 aircraft.
Aurora's wholly-owned subsidiary Aurora Finance reached the deal with the Khabarovsk regional government's property ministry, says the carrier.
"Combining the efforts of [eastern Russian] airlines makes it possible to speed resolutions on expanding the route network, increasing the efficiency of airlines and airports, and increasing the availability and quality of air transport," says Aurora general director Konstantin Sukhorebrik.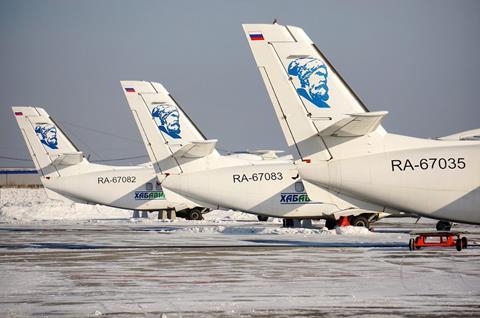 The eastern region is a vast territory, says presidential envoy Yuri Trutnev, and the consolidation of operators under the unified-airline initiative will lead to implementation of new socially-important routes.
Khabarovsk Airlines last year operated around 150 flights on social routes on behalf of the unified carrier. The shareholder agreement will enable corporate integration of the airline into the Aurora group.
Aurora will become the "main customer" of the new UZGA LMS-901 single-engined aircraft, developed to replace Antonov An-2s, according to Khabarovsk regional transport minister Irina Gorbacheva, with Khabarovsk Airlines set to be the "first operator".
She adds that plans also include operating the Irkut SSJ-New, the revised version of the Superjet 100 which features Aviadvigatel PD-8 engines and a higher proportion of Russian-built components.
Participation of Khabarovsk Airlines in the unified eastern carrier, says Gorbacheva, will help achieve targets relating to aircraft purchase and increased inter-regional passenger traffic.
Aurora says similar shareholder agreements were reached last year with Yakutia, Kamchatka Aviation Enterprise, and Chukotka regional operator Chukotavia.