Avia Solutions Group's new Asian carrier, BBN Airlines Indonesia, has secured an air operator's certificate from the country's transport ministry.
The airline obtained the approval on 31 August. It will operate an initial fleet of two Boeing 737-800 freighters.
Avia Solutions, which oversees several airlines, disclosed last year that it was planning to establish the new carrier through the parent of cargo operator Bluebird Nordic.
Jakarta-based BBN Airlines Indonesia will specialise in offering wet-lease capacity.
"[Wet-lease] is considered relatively new in Indonesia, and there are very few service providers," says Avia Solutions.
It states that the carrier has successfully completed all certification stages, and fully met all the technical and safety requirements for an AOC – enabling it to commence commercial flights immediately.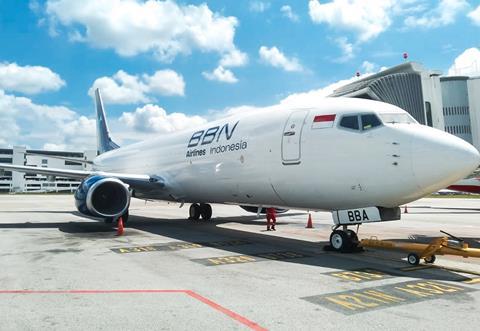 BBN Airlines Indonesia aims to expand to nine aircraft – in both passenger and freight configuration – by the end of this year.
"The AOC is a testament to our serious commitment and readiness to support Indonesia's aviation needs, in all sectors," says BBN Airlines Indonesia chair Martynas Grigas.
He says there is high demand for aircraft capacity, particularly during the pilgrimage and Islamic holiday seasons.
"This is why we are confident that this is an excellent opportunity for us to be able to give much-needed support to the airline, logistics, and tour operator companies," he adds.
Grigas says wet-lease providers are "rare" in the region, and that the new airline will offer "tailored" services – including mixed-crew and damp-lease – to meet specific customer needs.