Irish-based Avia Solutions Group has purchased a UK operator, Synergy Aviation, as it continues its expansion strategy of investing in carriers.
Synergy Aviation – which has a base at Fairoaks airport, some 15km southwest of London Heathrow – is to be rebranded as Ascend Airways.
According to the UK Civil Aviation Authority, the company holds an air operator certificate (AOC) covering smaller types including Cessna Citation-series executive jets and Beechcraft King Air B200s twin-turboprops.
Avia Solutions chief Jonas Janukenas says that having a UK AOC will "create new opportunities" for the group in the UK, and enable it to expand its wet-lease and charter services.
The company aims to upgrade Synergy's Type B operating licence – which restricts the carrier to aircraft with 19 or fewer seats – to a Type A licence, enabling it to introduce larger models.
Conditions for a Type A licence are stricter, and include requirements to comply with certain financial criteria.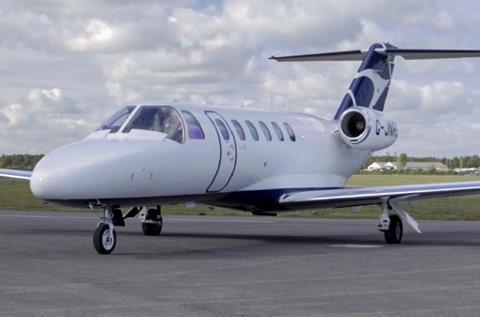 Synergy was established in 2004 and specialises in VIP, air ambulance, and urgent freight flights.
Avia Solutions has not disclosed the terms of the Synergy acquisition, but states that the company has been "newly purchased" and will "strengthen [Avia's] position in the UK aviation market".
The company holds 10 AOCs and has a collective fleet of 180 aircraft across such carriers as SmartLynx Airlines, Avion Express and Bluebird Nordic.
Avia Solutions has named Alastair Willson, the chief executive of Titan Airways, to take over development of the company's UK charter and wet-lease business.
Willson says an upgraded operating licence will allow the company to offer services with 180- to 200-seat aircraft by the end of this year.
"Our aim is then to offer UK customers locally-based aircraft and crews to provide a more flexible and reliable service, minimising operational disruptions," he adds.