Colombian operator Avianca is seeking to accelerate closer ties with Latin American low-cost carrier Viva, in order to protect the budget airline.
Avianca has requested authorisation from the Colombian civil aviation regulator to integrate Viva over concerns about Viva's ability to compete in the face of increased financial pressures.
Viva had already been part of a broader agreement, reached earlier this year, to bring its Peruvian and Colombian operations under a new Avianca holding company – although Viva's operations would remain independent.
Avianca states that, at the time, the financial situation of Viva was "different" and the budget airline believed it had the necessary finances to compete.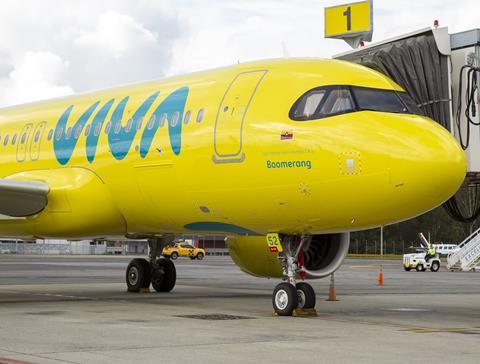 But the combination of fuel-price rises, inflation, and currency exchange have made the integration of Viva a matter of "utmost urgency", says Avianca, and it has been "forced" to request accelerated approval.
"The integration request with Viva seeks to fight for its survival in the market," says Avianca chief Adrian Neuhauser.
He says Avianca has a "solid financial position" which would enable Viva to benefit from synergies and economies of scale, and allow provision of financial support and management participation.
Colombia has undergone a recent change of government, and Avianca says it has been holding discussions with representatives of the new administration.
Avianca says the integration would address Viva's "delicate financial situation", bring network connectivity for passengers, and "safeguard" jobs that depend on Viva's operations.