British Airways Cityflyer insists it needs to assess the trajectory of market recovery before looking at potential successors for its Embraer 190 fleet.
The airline – based at London City airport – exclusively operates E190s, and has a fleet of 20 of the twinjets, having sold all its smaller E170s in 2021.
Cityflyer had been a profitable operation before the pandemic, turning in an operating surplus of £31 million ($39 million) for 2019 – a margin of more than 10%.
But it suffered during the crisis, with the most recent full-year figures filed showing an operating loss of £55 million and £60 million respectively for 2021 and 2020.
Speaking during an event in central London on 12 September, Cityflyer chief Tom Stoddart said the airline would "no doubt" require a new-generation aircraft at London City "at some point".
But Cityflyer was "unlikely" to introduce any new type before 2025.
"We need to see how the market recovers over the next couple of years before we make that decision," he says.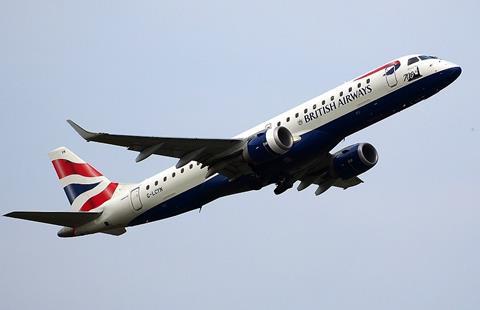 London City's combination of a short runway and steep ILS glideslope mean that only a limited number of large jet aircraft can serve the airport.
Embraer secured steep-approach approval to London City for its re-engined 190-E2 variant in 2021, and demonstrated a similar capability with the larger E195-E2 last year.
Airbus's A220-100 was also certified for steep approaches in 2017, when the aircraft was still being produced by Bombardier as the CS100.
Stoddart points out that the cost of ownership increases with newer aircraft, which is crucial given the strict London City noise curfews that limit utilisation – curfews which are currently the subject of a contested planning application.
"You have to be confident you're going to fill those seats," adds Stoddart. London City is appealing a rejection of plans to extend its operating hours, an extension which would assist the airline's case to invest in fleet renewal.
While the E190 features General Electric CF34 engines, both the E2 family and the A220 are fitted solely with Pratt & Whitney geared turbofans.
Stoddart says the company is "holding its breath" on Pratt & Whitney engine performance; certain P&W geared-fan powerplants – notably those for the A220 and A320neo – have been experiencing recent high-profile technical issues.