British Airways is the latest carrier to tie up with a sustainable alcohol-to-fuel initiative established last year by carbon recycling and biotechnology firm LanzaTech.
Its agreement involves not only the supply of fuel but initial exploration into a possible biorefinery for the airline in the UK.
UK long-haul carrier Virgin Atlantic linked with LanzaTech a decade ago to take advantage of gas-to-liquid processes to generate fuel-grade ethanol from vented by-products of steel factories.
LanzaTech last year established a new operation, LanzaJet, with Canadian and Japanese investment to build a US-based biorefinery for sustainable aviation fuel at Soperton in Georgia – disclosing the participating of Japanese carrier All Nippon Airways in the project.
British Airways says it is investing in LanzaJet as the company proceeds with constructing the Georgia plant, and will purchase sustainable fuel from the facility to power some of the airline's services from late 2022.
The airline says its agreement involves "early stage planning" for a potential large-scale UK biorefinery for BA.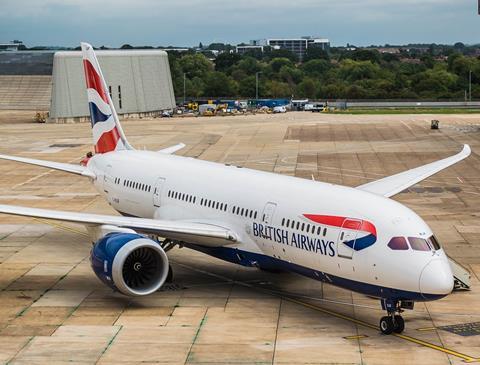 BA says the partnership – which follows a separate waste-to-fuel tie-up with Velocys in the UK – "reflects the importance" the company has placed on environmental consideration and carbon reduction.
Construction of LanzaJet's plant is set to commence this year. BA says the fuel the plant will produce will cut emissions by 70% compared with conventional fossil jet fuel.
It says the alcohol-to-fuel process can use ethanol extracted from agricultural residue and recycled pollution.
BA has committed to a net-zero carbon emissions target by 2050. "It is vital to our future that we continue to address climate change and we remain focused on playing our part," says chief executive Sean Doyle.
"Following the successful start-up of the Georgia plant, we hope to then deploy the technology and [sustainable aviation fuel] production capacity in the UK," he adds.
LanzaJet chief Jimmy Samartzis, who previously served with United Airlines in a senior renewable fuels role, says the UK would be an "ideal location" for a commercial plant.
"We look forward to continuing the dialogue with BA and the UK government in making this a reality," he says.
Plans to build a European Union-funded alcohol-to-jet fuel facility are already under way with a consortium – led by SkyNRG and supported by LanzaTech – commencing work on the project, which will be fully operational in 2024. The location of this facility has yet to be disclosed.