British Airways is being fined more than $1 million under a compromise arrangement after US regulators accused the UK carrier of failing to refund passengers quickly enough for flights cancelled during the pandemic.
Over 1,200 customers have complained to the US Department of Transportation since 1 March 2020, when the onset of the Covid-19 pandemic began to affect the air transport network.
"Consumers were unable to get through to customer service agents when calling the carrier during [March-November 2020] because British Airways failed to maintain adequate functionality of its customer service phone lines," the department states.
It adds that "many" consumers experienced "significant issues" while attempting to call the airline's phone lines. The carrier had closed some of its call centres, including a large facility in India, and did not restore full capacity until August 2020.
"We view British Airways' practice to be unfair because consumers were subjected to extreme delays in obtaining refunds and some may have been effectively denied refunds," says the department, adding that customers were probably "not aware" of other avenues for requesting refunds offered by the airline.
The department's Office of Aviation Consumer Protection found that British Airways' website contained confusing information on obtaining refunds, and that passengers who managed to submit requests could find they were offered compensatory "final and irreversible" vouchers instead.
This has led the department to describe the airline's practices as "deceptive" and "misleading".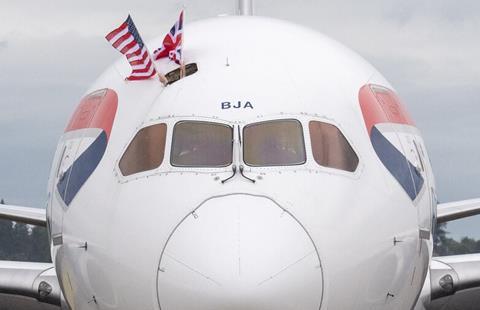 British Airways defended its position to the regulator, pointing out that the pandemic had an unprecedented impact on global air transport, with an "astronomical" number of flight cancellations, and that two of its five call centres were "forced" to close without warning, as a result of government restrictions.
The airline states that it retrained and re-equipped personnel to take on customer-support roles remotely, developed automated options to process simpler refunds, and re-opened the affected call centres in April and May 2020.
British Airways rejects the accusation that it failed to maintain adequate functionality of its customer service phone lines, and flatly denies that waiting times were excessive – it says a centre which handled over 70% of US customer calls was answering 95% of these calls with an average wait of just 1.8min in May 2020.
The airline also insists its website was not misleading and disagrees that its practices were deceptive, asserting that reasonable customers would not have been confused.
It backs up its claims by pointing out that nearly 70% of tickets for US flights were refunded in the year from 1 March 2020, and the airline paid over $763 million in refunds – which meant that obtaining such a refund was "not unduly difficult".
The airline also stresses that it refunded, over a longer period, some $40 million to passengers it had "no legal obligation" to compensate, because they held non-refundable tickets but chose not to travel.
Less than 12% of customers obtained vouchers, and British Airways claims many customers specifically wanted vouchers and have since used them, showing that they were not forced to take them in lieu of a refund.
British Airways has consented to the penalty assessment of $1.1 million, without admitting the violations, under the compromise.