British Airways is inviting applications for a fully-sponsored pilot training scheme, aiming to accept up to 60 cadets per year.
The UK flag-carrier has selected flight school Skyborne – which has UK and US facilities – as its partner for the new initiative, to be known as Speedbird Pilot Academy after the airline's callsign.
Skyborne uses a fleet of Diamond DA42s at Gloucester airport in the UK, plus Piper PA-28 Warriors and PA-44 Seminoles at Florida's Vero Beach – acquired when it took over the former FlightSafety academy in 2021. The school is also expanding its capabilities with a second Alsim AL42 simulator, which replicates the DA42, to be delivered to its Gloucester site.
It says a "significant majority" of the Speedbird Pilot Academy's intake this year will be made available through its channels.
BA will cover the tuition and accommodation cost of the UK Civil Aviation Authority integrated air transport pilot licence programme – running to almost £100,000 ($124,000) – in full.
The airline says it is committed to "increasing take-up" from under-represented groups, including women and ethnic minorities.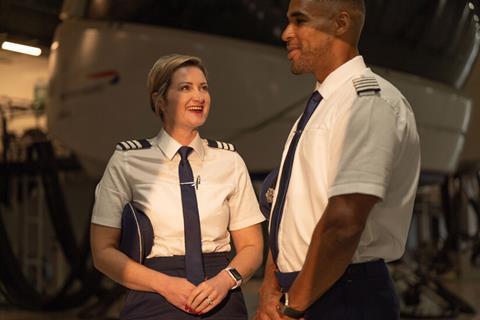 "Our aim is to attract the very best talent out there for our future generation of pilots," says BA chief executive Sean Doyle.
He says the carrier intends to remove the cost barrier, which presents the greatest obstacle to potential candidates.
The backing of the UK operator also means cadets do not bear the financial risk, which has become a crucial issue with some trainees whose flight schools collapsed during the pandemic.
"By removing initial training costs, we're making a flying career truly accessible so we can recruit the best and the brightest candidates," says BA head of flight training Capt Ian Pringle.
"We trust in Skyborne to offer our trainees world-class facilities, innovative teaching methods and a wealth of airline experience, building a crucial foundation for their future."
BA expects demand to be "unprecedented" and the application window will remain open for only a week. The 16-month training course will commence early next year, and trainees will be given a pilot position with the carrier upon completion.
"From the very start, Skyborne has been committed to removing the barriers to entry to pilot training and widening the talent pool," says the school's chief, Lee Woodward.
"Marking our first UK partnership with the UK's largest international airline is testament to the solid track record of our team and the core values we jointly hold."
Skyborne was also unveiled as a BA partner for "whitetail" recruitment, which enabled prospective pilots the chance to obtain a conditional offer of a career upon completing their training.