British Airways has started transferring aircraft to its new BA Euroflyer division after securing an air operator's certificate for the carrier, set up to conduct short-haul operations from London Gatwick.
BA Euroflyer was unveiled last year as the UK flag-carrier sought to establish an arm with a lower cost base to offer competitive services on particular routes.
Operation of short-haul services from Gatwick had been suspended for two years as a result of the pandemic, and BA started restoring flights this year under its own air operator's certificate while BA Euroflyer was still going through the regulatory process with the UK Civil Aviation Authority.
With BA Euroflyer holding its own AOC, as well as an operating licence, it will be able to accept its own aircraft, pilots and cabin crew, which will be transferred from British Airways.
The airline has already introduced an Airbus A320 (G-GATL) to Euroflyer, and is intending to move nine A321s and 10 A320s to the operator over the next six months.
Pilots and cabin crew will undergo an operator's conversion course to join the division.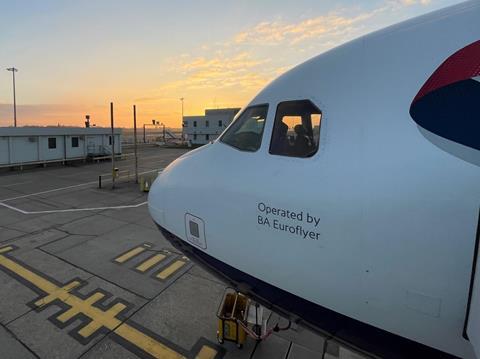 British Airways started operating the Euroflyer routes at the end of March, and served over 30 destinations this summer.
The network largely comprises leisure destinations in the Mediterranean, as well as a number of key European cities, and routes for summer 2023 will include such locations as Bari and Seville.
Long-haul services from Gatwick will still be operated by the mainline airline.
Acting BA Euroflyer chief Tom Stoddart says the granting of the AOC marks a "momentous day" in the new carrier's development.
British Airways says Euroflyer passengers will receive "the same premium service" as found on the mainline carrier's flights, with complimentary seat selection, snacks, and a "generous" baggage allowance.