British Airways is yet to determine whether its fledgling BA Euroflyer operation at London Gatwick is meeting the expectations laid down before its launch, as the carrier looks to expand the fleet to 22 aircraft next summer.
The flag-carrier commenced Euroflyer services in March last year and chief executive Tom Stoddart says the initial plan set out a 28-aircraft fleet for Gatwick.
"We have to prove the concept works to grow to that," he said during an event in central London on 12 September. "The reality is we're one-and-a-half summers into Euroflyer."
He says the company needs a "full year of operations" to demonstrate its success.
BA established Euroflyer – which uses Airbus single-aisle jets and, since last December, has held its own air operator's certificate – in an effort to lower the cost base of its Gatwick flights.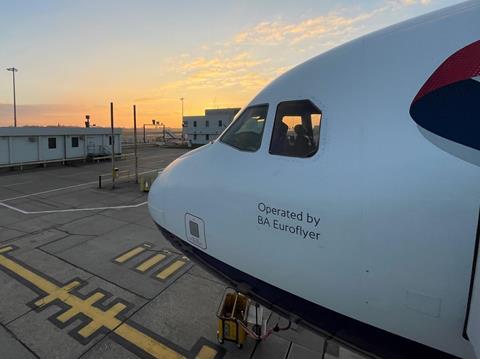 Stoddart says BA has "never really made money" on its short-haul services from Gatwick and, during the pandemic, the carrier consolidated its operations at London Heathrow.
But the airline believes Gatwick is important, and Stoddart argues that there is "clearly demand for a full-service carrier" at the airport.
"There's not anything low-cost about Euroflyer," he insists. "The real difference is how we handle the costs."
He says the market is "very seasonal", and Euroflyer is intended to address that seasonality by "flying hard in the summer, not so hard in the winter".
The rationale behind Euroflyer is "the ability to react to a competitive market, not reducing the customer proposition", he adds.
While IAG-owned BA uses its own crewing system, that for Euroflyer has more in common with that of IAG budget operators Vueling and Iberia Express.
Stoddart does not envision any specific collaboration with other budget airlines at Gatwick, and dismisses recent suggestions circulating on social media of a tie-up with Jet2.
"Jet2's not buying us," he states.
Euroflyer's initiatives include operating the first flight exclusively made up of 'reward seats' from BA's Avios loyalty programme. The service will operate from Gatwick to Sharm el-Sheikh in November.