Russian authorities have approved Belarusian flag-carrier Belavia as a maintenance provider to Russian-registered aircraft.
Belavia says the authorisation from federal aviation regulator Rosaviatsia – which followed an audit – "confirms compliance" of its activities with maintenance requirements in Russia.
The carrier states that it has a specialised servicing division and offers a "wide range" of aircraft maintenance capabilities.
Belavia will be able to carry out line and base maintenance on Russian fleets and service a number of components.
"Obtaining this certificate is another confirmation of the professionalism of our engineering and technical staff, the aviation technical base's high level of work, and a new step for the activity of Belavia as a whole," says general director Igor Cherginets.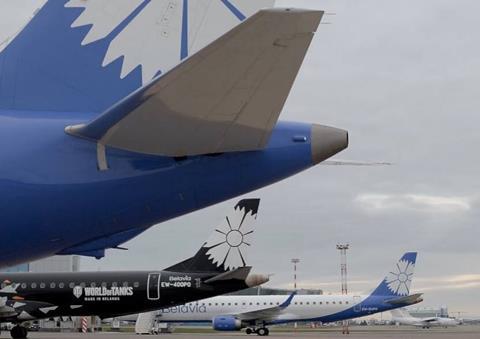 The airline operates a Western-built fleet featuring Boeing 737s plus Embraer and Bombardier regional jets.
Belavia had previously secured European Union Aviation Safety Agency approval to service Western aircraft models, including 737s and CRJs.
Russian carriers have faced restrictions, affecting access to European airports and the supply of aircraft components, as a result of sanctions imposed over the Ukrainian conflict.