Biman Bangladesh Airlines appears to be in line for a fleet modernisation with Airbus aircraft, following a bilateral agreement between the Bangladeshi and UK governments.
The agreement centres on an aviation partnership, according to the Bangladeshi prime minister's investment adviser, Salman Rahman.
Rahman, a member of the country's parliament, says the partnership will reinforce the aviation sector and lead to the "purchase [of] passenger and cargo aircraft from Airbus".
The trade and investment pact signals the UK's commitment to strengthening Bangladesh's aviation industry, says UK Department for Business and Trade minister of state Dominic Johnson.
Johnson adds that the deal will help to create jobs in both countries.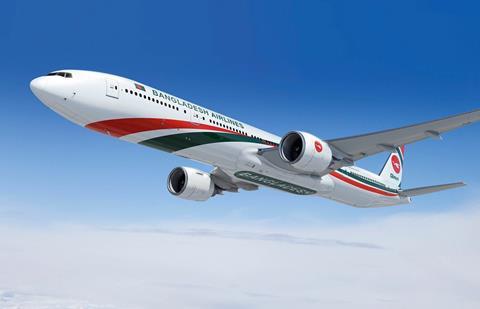 Biman Bangladesh Airlines is not an Airbus operator. Its fleet comprises Boeing 787-8s and -9s, as well as 777-300ERs for long-haul services, plus 737-800s and De Havilland Dash 8-400s.
Prime minister Sheikh Hasina Wazed is visiting the UK and has met with her counterpart, Rishi Sunak.
According to Bangladesh's Dhaka Tribune, an Airbus agreement is likely to cover 10 aircraft – eight passenger models and two freighters – for Biman.