Biman Bangladesh Airlines is seeking authorisation to open US services once it secures regulatory confirmation that its aviation oversight is compliant with ICAO standards.
The airline has formally notified the US Department of Transportation that it wants to open flights from Dhaka to New York JFK, via Izmir in Turkey.
Biman would operate five-times weekly on the route, using 298-seat Boeing 787-9s configured in three classes – including 30 business-class and 21 premium-economy seats.
The airline acknowledges that the US FAA currently classifies Bangladesh as a 'Category 2' country, meaning that its regulatory oversight is not ICAO-compliant.
This prevents the carrier from operating its own aircraft on US routes.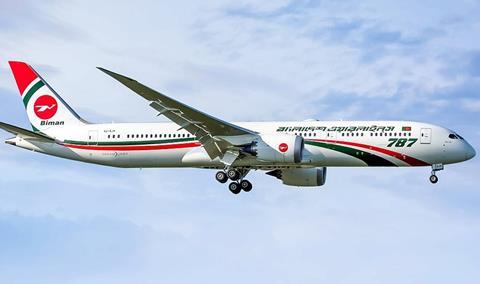 But Biman's notification adds that it believes joint work by the FAA and the Bangladeshi civil aviation authority will "soon" result in an upgrade to 'Category 1'.
"If [or] when such an upgrade does take place, Biman would be able to operate its own aircraft on flights to the [USA], assuming [the Department of Transportation] approves this request," it states.
Biman has indicated other potential future US routes including Boston, Houston, Los Angeles, Dallas, Newark and Washington.
It adds that it could serve these cities through such intermediate points as Abu Dhabi, Rome, Brussels, Manchester, Birmingham, Istanbul, Amsterdam and Delhi, as well as Izmir.