IAG has recorded exceptional charges of €275 million ($321 million) in the third quarter relating to staff restructuring at British Airways and Aer Lingus.
The parent company says the restructuring corresponds to a reduction of 10,000 in employee numbers, of whom over 9,000 had left by the end of September.
British Airways has reached agreements with unions representing "most" of the airline's personnel, adds IAG.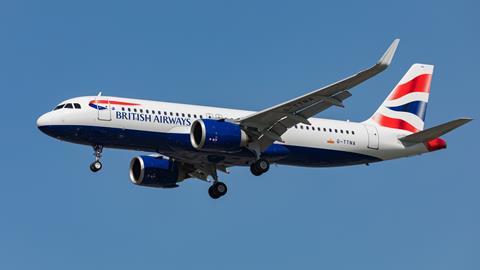 The charge contributed to exceptional items of €618 million during the third quarter, and took IAG's overall exceptional charge in the first nine months to €2.75 billion.
This figure includes recognition of fuel and currency overhedging amounting to nearly €1.6 billion in losses, plus impairments to the fleet and other assets of €716 million, as well as smaller items including the €22 million fine imposed for a cyberattack on passenger data.
IAG's fleet impairment relates to the retirement of British Airways' Boeing 747-400s and Iberia's Airbus A340-600s as well as the standing-down of additional aircraft in advance of lease expiry.
The company's operating loss before exceptional items over the nine months to 30 September reached €3.2 billion – in contrast to last year's profit of €2.5 billion. For the third quarter this loss was €1.3 billion.
New IAG chief Luis Gallego says the pandemic, and "constantly changing" government restrictions, are continuing to affect the business, but adds: "The group has made significant progress on restructuring and we continue to reduce our cost base and increase the proportion of our variable costs."
IAG has taken advantage of the Spanish government's Exceptional Temporary Employment Regulation and similar wage-support schemes in the UK and Ireland which – along with supplier cost cuts and other measures – have more than halved cash operating costs in the third quarter, to €205 million per week.
But IAG says the stalled recovery in the air transport sector, and its downward revision of fourth-quarter capacity to just 30% of last year's figure, means it "no longer expects" to break even in terms of net cash flow from operating activities in the quarter.