Brussels Airlines is analysing a number of development paths to expand its fleet and staff base, as passenger demand returns and it looks to capitalise on its restructuring initiative.
The carrier has been implementing a restructuring programme, known as 'Reboot Plus' and says it has achieved a "very strong and competitive" cost position.
This involved slashing the workforce and cutting back its short- and medium-haul fleet, from 42 aircraft in pre-crisis 2019 to 30 in 2020.
"With this cost position, that we must protect carefully, and the constructive collaboration with our social partners, we have the ability to move to the logical next step," it says.
The airline is "investigating different growth scenarios" to expand fleet and staff numbers, it says, and plans to unveil more details soon.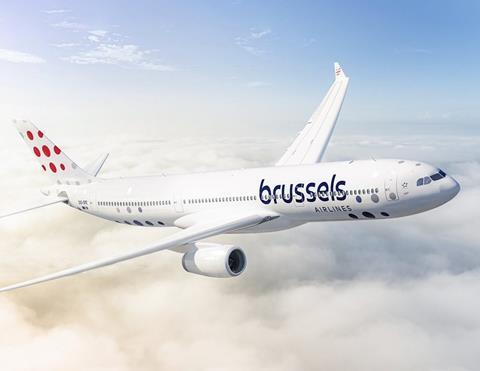 In order to reinforce its resources over the winter season, it is aiming to hire additional external cabin crew and extend the contracts of 200 temporary flight attendants.
Brussels Airlines is also seeking to recruit more pilots and is hiring maintenance and ground-operations personnel.
The carrier says the season will be "unpredictable", given the continuing uncertainty over re-emergence of Covid-19.
"Corporate demand is still unstable and operational bottlenecks at airports and system partners will continue to put pressure on our operational stability," it adds.
It says the expansion of personnel is intended to address the potential winter issues.
"This should increase the operational stability in the winter season while creating a more fair distribution of workload," it states.
Brussels Airlines says it has been holding collaborative discussions with workers' representatives since early July to explore possible options depending on how the market develops, and undertook a review of progress on 23 August.
"To create the right conditions for a successful future for the company, a constructive collaboration between management and social partners is crucial," it adds.
"Several workload-reduction or quality-improvement initiatives have already been implemented, while others are under investigation by both parties and will be concluded in the coming months."