Carriers in Germany are vehemently objecting to government plans to re-introduce compulsory mask-wearing on flights, arguing that such measures are unnecessary and will harm the country's airline industry at a time of recovery.
The German health ministry states that new protective measures for the winter season will apply from 1 October and run to 7 April next year, following a federal cabinet decision.
Federal health minister Karl Lauterbach says the mask requirement will apply nationwide to air services and long-distance public transport – part of a broader strategy to cut the risk of Covid-19 resurgence.
"The aim of our [coronavirus] policy remains to avoid high fatality rates, many lost working days, and serious long-term consequences," he says.
But German airlines describes as "completely inconsistent" the obligation for passengers to wear a specified high-protection mask as soon as they board an aircraft operating to or from Germany, given that this has not been mandatory at German airports for months.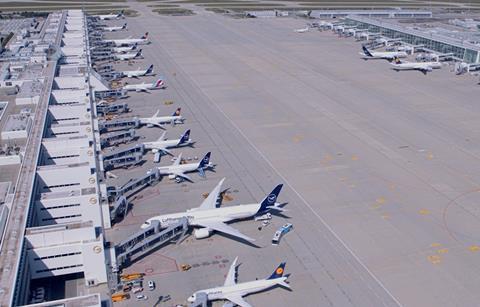 "Germany's position on the air transport market would be put at a considerable disadvantage in international competition by such an unjustifiably strict regulation," says the Board of Airline Representatives in Germany, which counts both German and foreign carriers among its membership.
BARIG is expressing "sheer incomprehension" at the cabinet decision, and is urging the federal parliament to revise the proposal.
"There is no epidemiological basis for such a step," insists secretary general Michael Hoppe, adding that the government's plan is "not reasonable".
"Germany is completely on its own with this decision," adds the organisation, which also point out that the risk of Covid-19 infection on board aircraft is "very low" in any case.