European Union regulators have laid out guidelines intended to reduce the pressure on airlines to refund passengers for flights cancelled through the coronavirus crisis, by enhancing the appeal of voucher schemes.
The European Commission's executive vice-president, Margrethe Vestager, stated during a briefing on travel and tourism strategies on 13 May that passengers were entitled by law to a refund if requested.
But she acknowledges that airline are "caught" between the need to refund passengers while new bookings are "thin on the ground", with the risk that operators could go out of business.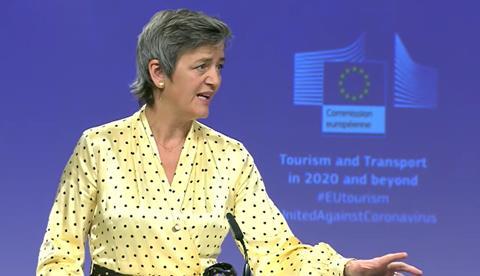 She says the Commission is recommending that vouchers become a "viable and more attractive alternative" to reimbursement, which could relieve some of the immediate pressure on carriers.
But this would require such vouchers to have a number of appealing characteristics – including a minimum 12-month validity and "effective and robust" protection for the consumer against the risk of airline insolvency, the Commission states.
"Organisers and carriers could consider issuing vouchers with a higher value than the amount of any payments made for the package travel or transport service originally booked," it says.
Flexibility and transferability, it suggests, are crucial to enhancing voucher appeal.
Passengers and travellers should be able to use vouchers for payments in respect of all new bookings made before their expiry date – even if the payment or service takes place afterwards – and should be able to use them for any transport service or package travel offered.
Airlines should also automatically reimburse the value of the voucher to the passenger no later than 14 days after the validity expires. Vouchers with validity periods longer than 12 months should also carry a 12-month reimbursement option.