Cathay Pacific is grappling with flat demand and a steep increase in cargo capacity, but freight volumes continue to pick up as capacity recovers from last year's lows.
The airline carried 111,210t of cargo last month, an increase of 6.4% compared with June 2022. The month's cargo revenue tonne kilometres (RFTKs) increased 16.3% year on year.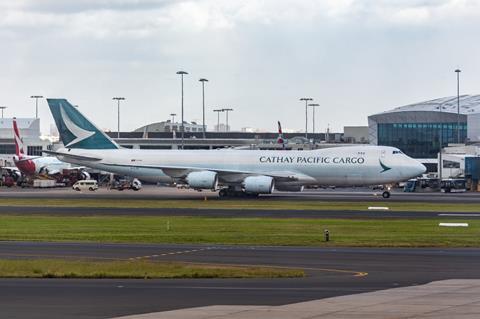 However, the cargo load factor decreased by 6.7 percentage points to 61.7%, while capacity, measured in available cargo tonne kilometres (AFTKs), increased by 29% year on year.
In the first six months of 2023, tonnage increased by 23.8% against a 117.6% increase in capacity and an 83% increase in RFTKs, compared with the same period for 2022.
Cathay Pacific had to slash cargo capacity last year, which affected volumes, due to lockdown measures in Hong Kong.
The carrier has also benefitted from e-commerce demand.
Chief customer and commercial officer Lavinia Lau says: "For cargo, the summer season is typically a slower period. As expected, overall demand in June remained flat, although e-commerce remains the bright spot and has helped maintain volumes.
"Although cargo demand is expected to remain flat throughout the summer period, we are already preparing for demand to pick up in the latter part of the third quarter. Additional capacity will be operated on our key transpacific routes to cater for this."
The Cathay Group also says it plans to buy back the preference shares held by the Hong Kong SAR government over the next 12 months as it further recovers from the operational disruption it experienced as a result of government pandemic measures.
It paid the deferred dividend of HK$1,524.1 million ($195 million) on the preference shares held by the Hong Kong SAR government on 30 June, bringing its deferred dividend payments up to date. It intends to pay all future preference share dividends as they fall due.
The airline recently said it will add new freighter flights to Toronto and Miami over the summer as its belly operations continue to roll out.
Rebecca Jeffrey is deputy editor at Air Cargo News, where this article was first published.