Cathay Pacific has formally signed for 32 Airbus A321neo and A320neo twinjets, having previously indicated that it would exercise options for the type.
The Hong Kong-based carrier states that the agreement is worth around $4.66 billion at catalogue prices, but that it has negotiated "significant" concessions.
Delivery of the additional aircraft will take place "by the end of 2029", the airline adds.
Cathay originally obtained the options as part of a September 2017 purchase agreement, when it ordered 32 A321neos.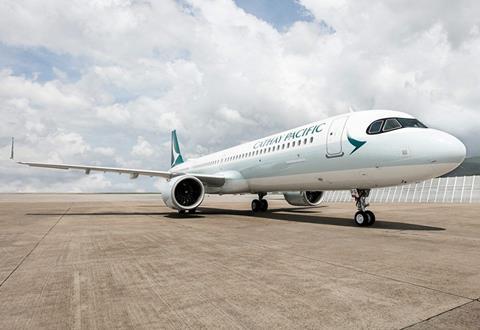 The airline has received written approval for the latest deal from shareholders Swire Pacific and Air China, which represent more than 50% of the voting rights.
Cathay says the aircraft will be used for its mainline and HK Express operations.
It has not indicated an engine selection for the additional aircraft. Cathay operates A320neo-family jets with both CFM International Leap-1A and Pratt & Whitney PW1100G powerplants.
Airbus says 13 of the 32 aircraft that comprised the original order have already been delivered.